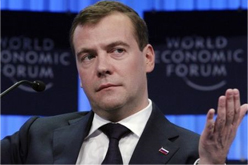 The World Economic Forum continued into its third day in Davos, Switzerland on Friday, and found Russian officials facing serious difficulty defending their country's reputation for corrupt and unlawful business practices.
Not only is Russia one of the most quantifiably corrupt countries in the world, but several high-profile businesses have come out with scathing criticism of it in recent years. Swedish businessman Lennart Dahlgren wrote an entire book, Despite Absurdity: How I Conquered Russia While It Conquered Me, on his nightmarish experience running Moscow's first IKEA. William Browder of Hermitage Capital Management has been an outspoken critic of the country ever since one of his lawyers, Sergei Magnitsky, died in a Russian prison after discovering a corruption scheme involving government officials.
So it was only natural that Browder showed up to burst Russia's bubble at Davos. As the Moscow Times reports:
William Browder, who once had about $4 billion invested in Russia through his Hermitage fund, spoiled on Thursday a Russian show in Davos meant to woo investors.

Browder said he had to flee Russia after accusing officials of corruption and saw some of his firms being stolen from him by Interior Ministry officials.

One of his lawyers, Sergei Magnitsky, died in jail in 2009 from what Browder says was torture.

The case has shaken investor confidence and drew criticism from Western organizations and governments. President Dmitry Medvedev ordered an investigation into the case and fired several officials, but Browder says the main culprits remain unpunished.

"The president of the country called for an investigation into the people who killed my lawyer," Browder told a panel chaired by First Deputy Prime Minister Igor Shuvalov and a hall packed with Western executives.

"One year after the investigation, people who killed the lawyer have been promoted higher by state orders. … My question to you, Igor, is what will prevent other investors to have the same experience after my experience in Russia," he said at the discussion, titled "Russia's Next Steps to Modernization."

Shuvalov took more than five minutes to answer Browder's questions, but his remarks seemed addressed more to the audience than to Browder himself.

"We know this case very well. … Twenty people were fired immediately. … It was not a case which was forgotten the next day," he said in English.

"Unfortunately, I don't know the results of the investigation and the end of the case. … The past is always very important, although not always positive, but we need to concentrate on the future," he added.

"You have to acknowledge the country is changing for the better. If every year we can say that the rule of law is becoming better — not perfect but better — then I think I'm doing my job," he added. "We need to work together."
It was just as natural that officials would feel the need to justify the new guilty verdict of Russia's most famous businessman, former Yukos CEO Mikhail Khodorkovsky:
President Dmitry Medvedev has compared jailed former Yukos CEO Mikhail Khodorkovsky to the mastermind of the biggest Ponzi scheme in U.S. history in an apparent attempt to present the Yukos case as triumph of justice and highlight the ruling tandem's unity.

"An investor, Russian or foreign, should observe the law, otherwise they can get a jail term like it happened with Khodorkovsky and Madoff," Medvedev told Bloomberg Television at the World Economic Forum in Davos.

Bernard Madoff was sentenced to 150 years in prison in 2009 for organizing a Ponzi scheme worth $18 billion. Prime Minister Vladimir Putin also compared him to Khodorkovsky during a televised call-in show in mid-December, shortly before a Moscow court added six years to Khodorkovsky's previous sentence at a second trial.

Medvedev also said Wednesday that he did not wish to weigh in on the Khodorkovsky case because it would be an "interference with justice."

He said he would not grant Khodorkovsky a presidential pardon — as supporters have sought — because it would mean that the Russian judicial system was so flawed that "you could ask the president to change the verdict."
Given the wealth of worldwide criticism that Russia has received because of the Khodorkovsky verdict, it is doubtful that the president's words will assuage any concerned businesses.