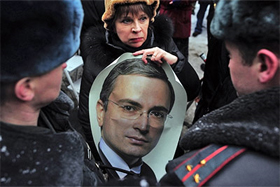 In the most politically charged case Russia has seen in years, jailed oligarch Mikhail Khodorkovsky and co-defendant Platon Lebedev have been found guilty of stealing from Khodorkovsky's own company, former oil giant Yukos, in the second case filed against them by the Russian government. As presiding Judge Viktor Danilkin speeds along to read the verdict aloud – a process that lawyers say will hopefully be completed before the end of the year – analysts, experts, and commentators speculate as to what the sentence is going to be – and what the whole process says about the state of democracy in Russia.
Vladimir Milov, former energy minister and prominent opposition figure: "Most likely, the sentence is going to be harsh, and I never had any different predictions than that. This is Vladimir Putin's personal vendetta: he has a personal stake in this. When the Yukos case had only just begun, Putin saw it as a battle for power and Khodorkovsky as a competitor, a real political adversary. And Putin fears him: this is clear from how aggressively he talks about the process."
Political analyst Dmitri Oreshkin: "It's too bad for Judge Danilkin. It's clear that both Khodorkovsky and Lebedev were prepared for the fact that they would be convicted. It's clear that we don't have independent courts and that there are no chances in the foreseeable future of becoming a state ruled by law. But there are rules to the game, rules called "arbitrariness." Any sentence more than 8 years would be cruel, so therefore it won't overlap the term that Khodorkovsky and Lebedev already served. Ten, 12, or 14 years – it's not even important. What's important is that it's going to be imposed not by the courts or the law, but by the government."
Igor Yakovenko, secretary of the Russian Union of Journalists: "The commentary is just as banal and predictable as the sentence. Everyone I talked to recently nevertheless had hope that Judge Danilkin would suddenly turn out to be a human being, oriented on the law and not on his own job-related considerations; they hoped for a miracle that Medvedev would turn out to be the president and not what he actually is. But there was no miracle – the country, obviously, will keep on sinking for an unknown period of time. The 2000s will keep going, and that's sad."
The Telegraph gives a full account of the story:
Judge Victor Danilkin said the former chief executive of oil company Yukos and Platon Lebedev, his business partner, had been found guilty of illegally obtaining some $25 billion (£16.3 billion) in oil revenues from the now defunct company.

"The court has found that Mikhail Khodorkovsky and Platon Lebedev committed embezzlement acting in collusion with a group of people and using their professional positions," Mr Danilkin told a courtroom full of media and defendants' relatives.

Mr Khodorkovsky's legal team immediately announced it would appeal. His lawyers attacked the judge for bowing to outside pressure. "We have no doubt that the court was pressured and the court did not make an independent decision," Vadim Klyugvant, a lawyer for Mr Khodorkovsky, said.

Mr Khodorkovsky and Mr Lebedev appeared unmoved by the verdict. Mr Lebedev was seen reading a book and exchanging notes with his defence team, while Mr Khodorkovsky exchanged glances with his mother.

Police arrested 30 people outside the courtroom where supporters of Mr Khodorkovsky chanted "freedom" and "down with Putin". Vladimir Putin, the Russian prime minister and former president, dismantled Yukos after Mr Khodorkovsky challenged powerful forces in Russia's establishment.

The defence has maintained that the charges, which amount to stealing all the oil Yukos produced between 1998 and 2003, are absurd and politically motivated. The verdict seemed not to take account of testimony by key public figures including German Gref, the head of Russia's biggest state owned bank, who said in court that the oil trading scheme at the heart of the case was legal. The judge, who read the verdict for eight hours before adjourning yesterday, also dismissed a green light from audits of Yukos by PricewaterhouseCoopers as based on incomplete and false information.

International reaction raised enduring concerns about Russia's judicial system.

The [British] Foreign Office said the conviction could threaten trade relations between Britain and Russia. A Foreign Office spokesperson said the law should be applied in a "non-discriminatory and proportional way" in order to sustain an environment "in which investors can remain confident that they can do business, and that property and other rights are soundly protected".

Guido Westerwelle, the German foreign minister, said he was "very worried". "The way the trial has been conducted is extremely dubious and a step backward on the road toward a modernisation of the country … It is in the interest of our Russian partners to take these concerns seriously and to stand up for the rule of law, democracy and human rights."

Hillary Clinton, US secretary of state, [s]aid the verdict would have a "negative impact on Russia's reputation" and raised "serious questions about selective prosecution – and about the rule of law being overshadowed by political considerations".

Reading the full verdict and sentencing is expected to take several days. Most observers expect Mr Khodorkovsky to be in prison at least until 2017, although if the judge shows leniency he could be out in three years.

Mr Khodorkovsky, once Russia's richest man, is reaching the end of an eight-year sentence for tax evasion, which was widely viewed as punishment for funding opposition parties in defiance of Mr Putin.

After the first trial, Yukos was broken up and its assets snapped up at knock-down prices by state-owned oil companies.

Mr Putin has made his views of the former oligarch clear. In a television phone-in on December 16 he compared Mr Khodorkovsky with Bernard Madoff, the convicted US fraudster. Mr Putin also said that "thieves should sit behind bars", even though the court had not delivered a verdict.