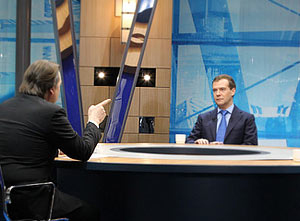 In a year-end wrap-up-style interview with the heads of Russia's three main television channels, President Dmitri Medvedev dedicated a significant amount of time to both his overt and subtle differences in opinion with Vladimir Putin – on the second case against Mikhail Khodorkovsky, the role of the opposition in public politics, the quality of Russian television and the importance of the internet.
During the December 24 interview, the president made several key policy statements that contradicted Prime Minister Putin, who held his own four-hour televised question-and-answer session called "A Conversation with Vladimir Putin" a week ago.
The first controversial statement came in response to a question by NTV General Director Vladimir Kulistikov. Besides him, the general directors of Channel One and VGTRK, Konstantin Ernst and Oleg Dobrodeev, took part in the interview. "Might I ask you not about ZhKKh, but MBKh?" Kulistikov asked, using in turn the acronyms for housing and public utilities and jailed oligarch Mikhail Khodorkovsky. As the verdict in the second federal case against Khodorkovsky is due to be handed down on December 27, Medvedev was asked to speak on the prospects of the trial "as a lawyer and as a person."
"As president I can say: neither the president nor any other person in state service has the right to express their position up to the moment the verdict is handed down," Medvedev responded.
The last "other person" was Putin, who said during his own broadcast that Khodorkovsky was a robber who had been found guilty of fraud and theft by a court and "should sit in prison." He stressed that this assessment stems from the fact that "Khodorkovsky's crime was proven in court." While Putin later specified that the remark was in reference to the first case and not the current one, this was only said to a small audience at the press conference after the broadcast.
Responding to the same question "as a lawyer," Medvedev said that if anyone had evidence that the actions incriminating Khodorkovsky and co-defendant Platon Lebedev "have been committed by all businessmen," then "bring it me – or the prosecutor general, more naturally – and we'll work on it."
The president declined to have his say on the Khodorkovsky case "as a person."
Medvedev did express his opinion on a rather resonant issue that Putin had raised a week earlier. Speaking about "various prospective politicians" who, besides the prime minister and himself, he considers to be serious and well-known, Medvedev smiled and said: "I want to make an official announcement: such people exist. I say this without irony," and here the president smiled even wider, "for example, the leaders of parliamentary factions."
"And there's Kasyanov, Nemtsov, Limonov, Kasparov," Medvedev went on. "These are also public politicians. People have differing attitudes towards them, but they, too, are politicians."
"But the main resource is a resource of talented people; that's where our future presidents and prime ministers are," the president summed up.
During his question and answer session, Putin spoke of the opposition with the utmost harshness. In response to one viewer's question – "what do Nemtsov, Ryzhkov, Milov, and so on really want?" – Putin said that the opposition figures wanted "money and power."
"In their time…in the '90s, they, together with Berezovsky and the people in prison who we remembered today, nabbed not a few billions," he said. "They were dragged away from the trough, they broke the bank, and now they want to come back to refill their pockets." On December 23, the named oppositionists filed suit against Putin for defamation.
Medvedev had responded to a question about the opposition in his year-end interview in December 2009, with a less-than-complimentary view: "You know, the so-called extrasystemic opposition, it is extrasystemic because it does not see itself inside the political system," he said at the time. "They, too, probably, reflect somebody's preferences; it's true that I sometimes have a hard time saying whose. But that's already a question of inner value; I wouldn't want to offend anybody."
While Medvedev's position today differs from both Putin's and his own last year, the difference is primarily in political style, and there's no talk of a split between the two leaders, says political analyst Dmitri Oreshkin.
In his own interview, Medvedev spoke "correctly" with the heads of the television channels, while Putin spoke to the people as a populist, Oreshkin explains. "Medvedev, in principal, has a different style; he is a different type of person; indeed, there were no salty questions, no catchphrases or cheap populism. That's how it it's been with them from the very beginning. Putin said that state corporations should be managed by civil servants, and Medvedev proposed employing independent managers. As a result, there are both."
Meanwhile, the oppositionists themselves do not believe that the president's new position will protect them from persecution. "If he had told the three television directors that the so-called 'blacklists' need to be liquidated and that these, as they called us, 'public politicians' need to be shown – then it would have been a positive signal," said former Prime Minister Mikhail Kasyanov.
"Maybe he mixed something up or someone gave him the wrong list," responded Eduard Limonov, leader of the National Bolshevik and Other Russia parties and a leader of the opposition's primary protest campaign, Strategy 31. "I don't see him as a prospective politician, he's got no talent."
United Civil Front leader Garry Kasparov argues that the president's opposing view from Vladimir Putin on oppositionists indicates obvious disputes within the president and prime minister's so-called tandem.
"The question of whether they [the disputes] are tactical or strategic remains open for now, because, regardless of all the significance of Medvedev's statement, he still isn't prepared to break away from Putin and 'putinism,'" Kasparov asserted.
"If we recall Chubais' recent statement that Medvedev will become president in 2012," Kasparov continued, "one can presume that this part of the Russian elite would like to save something like 'putinism' with a human face; that is to say, return to 2002, when all non-democratic excesses and the corruption of Russian bureaucracy were not thrown in your face so obviously."
Kasparov warns that only time will tell the true value of the president's words. "For now, such statements by Medvedev have not turned into real actions, so we'll wait for 2011," he concluded.
Medvedev's interview also touched on issues that he had brought up on his presidential blog on the eve of his yearly parliamentary address – the development of democracy, political parties, and stagnation. "Nobody cancels rallies and pickets," he said in reference to efforts by police to break up a violent rally outside the Kremlin earlier this month. "But you need to obtain permission."
The president linked political development to the responsibilities political parties should be taking – including United Russia, the party lead by Vladimir Putin that has a virtual political monopoly over the country. "United Russia should not just sit on the throne," said Medvedev. "It should exude intelligence and strength. And corrupt [party members] should be pushed back and punished. Do not revel in your accomplishments. You cannot develop through stability alone; there needs to be drive, the intention to overcome yourself. Whoever thinks that everything with us is fine should stay behind in Courchevel."
Responding to a question of whether it was difficult to find candidates for governor – a post directly appointed by the president in Russia since 2005 – Medvedev asked regional leaders not to linger in their posts for more than three terms. "Any governor must understand that they have two, at most three terms in order to change the lives of the people in their region," he said. "You need to give way to the young and think more about what people think about you. If a governor has a so-called anti-rating, then he shouldn't be reappointed."
The interviewers were silent. "And there's a pause," joked the president. "Oh no," the directors said, and relaxed, changing the questioning to Medvedev's recent visit to the disputed Kuril Islands. "They're tense," the president joked, referring to the Japanese.
Then Medvedev himself decided to ask a question. "I'll take this opportunity," he said, and remarked that Russian television has been repeatedly criticized for "filtering information and not telling the truth."
"While we have wonderful television, our news ticker is wretched," Medvedev chided the directors.
Kulistikov was the first to respond. "I have always been free while working for the mass media," he assured the president. Medvedev stared back with a look of disbelief. "There are editorial politics, and they can be discussed, but it is not a question of freedom," Kulistikov added. According to Ernst, freedom on television is limited by the subjectivity of the people who make it. "But I understand the nature of the claim," he stipulated.
"The level of freedom always corresponds to the times," Dobrodeev said for his part. "Right now it is one of the highest levels of freedom in the entire history of television."
This reasoning did not entirely satisfy the president. "In my view, you're all right, and that's your authorial position," Medvedev said with a smile. "What shouldn't exist, in my view, is the gap between the lists of important events that happen in life and the lists of events shown in the news. There may be varying assessments here."
"The channels themselves should assign priorities – what's more important, what's less important. But the daily agenda, the list of news events should not have a dramatic break from the internet and other mass media. And in my view, that's how it looks today," Medvedev reprimanded the broadcasters. They frowned.
Medvedev did not mention Putin at any point during the broadcast. The president, who Russian citizens have overwhelmingly seen as a conduit for Putin's policies since the very beginning of his time in office, is trending towards independence. However, this doesn't indicate that everything has changed in a fundamental way, says Deputy Director Aleksei Grazhdankin of the Levada Analytical Center. When asked in November whether or not Medvedev promotes policies that are actually his own, Russian citizens responded in the following manner: 18% feel he follows Putin's policies exactly, 53% say he is basically continuing Putin's policies, 18% say he is gradually changing course, and 4% feel that the president is forwarding an entirely different set of policies. Figures from the same survey taken a year earlier show that opinions have changed slightly, if at all: the distribution of responses fell at 21%, 55%, 14%, and 3% respectively.
Adapted from an article by Gazeta.ru. Translation by theotherrussia.org.