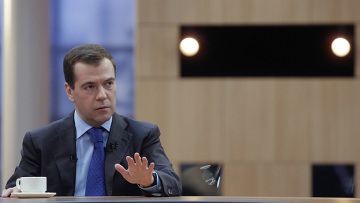 In the spirit of Russian Prime Minister Vladimir Putin's annual marathon question and answer sessions, President Dmitri Medvedev sat down on December 24 with the heads of Russia's three state television channels for an interview entitled "Results of the Year with the President." Over the course of eighty minutes, Medvedev answered questions concerning disputed regional elections, Garry Kasparov and the political opposition, an "evil" judicial system, and admitted that he listens to Linkin Park.
In response to a question concerning disputed regional elections that took place throughout Russia in October, the president stated that the elections were indeed "not sterile." Medvedev had previously admitted that the elections were flawed, with numerous cases of blatant fraud having been documented after Putin's leading United Russia party was given overwhelming wins.
At the same time, Medvedev said that he was hindered from admitting that the problems were of any real seriousness by the low number of court complaints contesting the results. "Altogether throughout Russia on the whole there are 450 to 460. In Moscow, where there were also many claims, there are altogether a few more than twenty demands in the courts," he said.
Communist Party (KPRF) deputy Vadim Solovyov refuted Medvedev's information. "I don't know where the president got these figures. I believe he has been misinformed. The KPRF itself filed 47 suits in the courts, and that's only the beginning," he told Gazeta.ru. Those who wish to contest the elections have a year to file suit.
Konstantin Ernst, manager of Russia's Channel One, asked the president if he was acquainted with the phrase "basmanny justice," a term used mostly by the political opposition to describe a corrupt judicial system. "Yes, I've heard this term," said the president. "I'm not sure that it's exact and correct."
He added, however, that if a judicial system exists in Russia that allows "unjust decisions," then "it is evil, and we must fight it."
"Such decisions or sentences should be annulled, and if they are taken under the influence of this or that circumstance – whether it's money, political pressure, or other factures – those who make such sentences and decisions should be subjected to responsibility," Medvedev asserted.
Ernst later posed a question about political opposition groups that have repeatedly tried and failed to gain official recognition by the Kremlin, referred to here as the "extrasystemic" opposition. "What place in the political life of Russia do you see for representatives of the extrasystemic opposition, for such people as [former Prime Minister Mikhail] Kasyanov and [oppositionist leader Garry] Kasparov?" Ernst asked.
"You know, the so-called extrasystemic opposition, it is extrasystemic because it does not see itself inside the political system. They chose such a place for themselves. It's their right," the president responded. "I treat them with respect, if by doing so our legislature is not violated – electoral [legislation], legislation about social unions, about rallies and so on."
"They too, probably, reflect somebody's preferences; it's true that I sometimes have a hard time saying whose. But that's already a question of inner value; I wouldn't want to offend anybody," Medvedev added.
Kasyanov was scathing in his response. Speaking to Gazeta.ru, he asserted that "Medvedev and Putin are to blame for the fact that today in Russia no electoral institution exists from which they and all the rest of the citizens could learn what number of people share the value of a democratic state and wish to live in a free, civilized country."
Concerning Medvedev's thesis that he and Kasparov "chose themselves" to exist outside of the political system, Kasyanov stressed that "there is no place for free people in the political system intentionally created by Putin and Medvedev." Likewise, Solovyov added that the radicalization of the opposition in Russia is a consequence of the actions of authorities.
The concluding questions addressed various aspects of Medvedev's personal life, including his late bedtime (2:00 am) and his son's taste in music.
"You know, like many young people – he is now 14 – he's a fan of so-called alternative rock," Medvedev said. "I know little about it, but I know some of the groups and even sometimes listen to them, including this group Linkin Park."
A source in the Kremlin told Gazeta.ru that while the interviewers had previously discussed with the president what topics would come up during the program, the exact questions had not been specified.
However, political analyst Dmitri Oreshkin asserted that "nothing is accidental in these things." In his opinion, Medvedev's responses indicated that he was preparing to run for a second term as president – a competition that Prime Minister Putin has publicly stated that he is considering entering as well. If a direct competition between the acting president and current prime minister comes to be, Oreshkin said, then Medvedev needs to be able to have confidence in the integrity of the electoral, judicial, and law enforcement systems – which is why, said Oreshkin, all of those topics were raised during the interview.
Political analyst Stanislav Belkovsky said that overall, the program is a sign of the Kremlin's continued policy of spreading bogus signals to the public. By speaking in the spirit of a "conservative modernizer," Belkovsky said, Medvedev is allowed "to talk plenty, but not do anything."