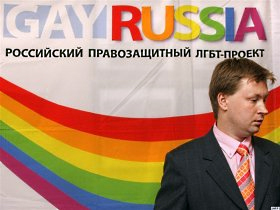 After years of discrimination under Moscow Mayor Yury Luzhkov, the Russian gay rights movement saw a glimmer of hope on October 4 when they were granted permission to hold a rally for the first time ever. But gay rights activists had an even bigger cause for celebration on Thursday when news broke that the European Court of Human Rights has ruled in their favor in a case against the Russian authorities for continually banning their events.
Radio Free Liberty/Radio Europe reports:
The European Court of Human Rights has slapped a fine on Russia for banning homosexual rallies in Moscow, handing an unprecedented victory to the country's marginalized homosexual community.

Leading Russian gay rights activist Nikolai Alekseyev had lodged a complaint with the court after unsuccessfully challenging the bans in Russian courts.

Speaking to RFE/RL, Alekseyev hailed the ruling as a "grandiose success" not only for homosexuals but for all Russian citizens.

"We consider this a defeat of Russian homophobia on all fronts," Alekseyev says.

"Now Russia will have to allow gay prides in Moscow but also change its legislation with regard to legal defense in case a public gathering is banned."

In a statement issued on October 21, the Strasbourg-based court said Russia had breached the European Convention on Human Rights, which the country formally adheres to as a member of the Council of Europe.

The court said the Moscow government's argument that a gay pride parade risked sparking clashes with antigay protesters was "not sufficient to justify" its ban, adding that forbidding gay-rights marches and pickets was "not necessary in a democratic society."

Its judges ruled that Russia had violated rights of assembly, discriminated against sexual orientation, and denied Alekseyev's right to legal redress. It ordered Russian authorities to pay the activist 29,510 euros ($41,000) in damages and legal fees.

Last month, Alekseyev went missing for two days, before reappearing in Moscow claiming he had been kidnapped by unidentified men, who had tried to pressure him into dropping his case at the Strasbourg court.

Attempts to hold gay parades in Moscow have been marred by violence and arrests.

Moscow's recently-sacked mayor Yury Luzhkov had said the rallies, which he described as the "work of Satan," would never take place under his rule.

Alekseyev now hopes the landmark ruling will encourage new Moscow Mayor Sergei Sobyanin, who was approved by lawmakers for the post on October 21, to take a softer line on gay rights.

Although Russia decriminalized homosexuality in the early 1990s, there is still little tolerance for gays and lesbians in Russia, where many are opposed to gay parades.

Not all gay-rights activists, either, support such gatherings, saying they will bring more trouble than they are worth.

Several other cases filed by Alekseyev and other gay-rights activists are currently pending at the European Court of Human Rights, including a complaint regarding Russia's ban on same-sex marriages.