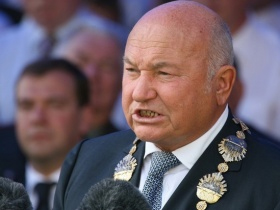 Moscow Mayor Yury Luzhkov has announced that his opposition to gay pride parades in the city should be taken as "an axiom," reports the ITAR-TASS news agency.
In a statement on Monday, the mayor expounded upon his history of banning the events, which activists have attempted to hold annually since 2006.
"It is impossible to gaze kindly upon the display of blasphemy under the guise of creativity and protected by the principle of freedom of speech," said Luzhkov. "The activities of destructive cults are not allowed, and the propaganda of so-called unisexual love is unacceptable."
"For several years, unprecedented pressure has been exercised on Moscow with the demand to hold a gay parade here," the mayor went on, "which can be called nothing more than a satanic activity. We have not allowed such parades and will not allow them in the future."
"Everyone should take this not as theory, but as an axiom," he concluded.
Nikolai Alexeyev, founder of the Gayrussia.ru rights project and organizer of the Moscow Pride annual parades, said that the city's sexual minority was prepared to hold a march in Moscow on May 29, and had already prepared the necessary application. He added that guests from other countries had been invited to the event, following suit with previous years' parades.
An attempt to hold Moscow Pride in May 2009 ended with the arrest of all 30 participants, including Alexeyev and British human rights activist Peter Tatchell.
Russian gay rights advocates have suffered from strong public and governmental opposition dating back to Soviet times. In accordance with a Stalinist decree, homosexuality carried a sentence of up to five years in prison until 1993, when legislators legalized it at the urging of the Council of Europe. It remained on the list of Russian mental illnesses until 1999. While there are no laws explicitly banning homosexuality, authorities have failed to recognize the need for anti-discrimination legislation. Public opinion remains strongly opposed to such reforms – as of 2005, 43.5 percent of Russians supported the re-criminalization of adult homosexual acts.