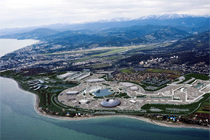 Residents of the Imeretinskaya Valley who are angry over being evicted from their homes to make way for Olympic facility construction were barred from a meeting between Russian Prime Minister Vladimir Putin and other evicted residents, Nezavisimaya Gazeta reported on Thursday.
The prime minister arrived in the Black Sea city of Sochi on Wednesday to check on preparations for the 2014 Winter Olympics. As part of his visit, Putin inspected housing being built for the evicted Imeretinskaya residents – approximately one thousand families coming from 628 houses and 369 apartments.
The residents have been protesting the unfair conditions of their eviction for years, holding demonstrations, hunger strikes, and filing suits with the European Court of Human Rights. The complaints range from the unlawful basis of the evictions to unfair compensation for their confiscated property.
At the same time, Prime Minister Putin has assured officials from the International Olympic Committee that the evicted residents are content with their new housing.
"The people are satisfied. I have to speak honestly: many of these people didn't live in these conditions earlier," said the prime minister. The new housing plans by Olympstroy, the state corporation responsible for Olympic construction, provide for 526 houses and several apartment buildings.
The evicted Imeretinskaya Valley residents were given the choice to take either the new housing or monetary compensation equal to the value of their property. If the new housing is worth less than a family's previous property, then it is also entitled to additional compensation.
However, many residents say that the Olympstroy housing – located in mountainous villages near airport radars – is simply unacceptable compared to their own, high-quality homes closer to the sea. Moreover, many say that the monetary compensation they're receiving is far below the actual market value they should be getting.
Despite these ongoing issues, the Russian authorities have told Olympic officials that the problems surrounding the eviction of the Imeretinskaya residents have already been resolved.
Construction for the 2014 Winter Olympics in Sochi includes plans for 13 new or reconstructed sports facilities, 4 ski resorts with tracks more than 150 kilometers in length, 8 kilometers of ski lifts, and more than 100 hotels with 27,000 rooms.
The Russian authorities have been severely criticized by not only evicted residents, but by ecologists, geologists, human rights organizations, oppositionists, and numerous other experts for a host of problems ranging from unprecedented damage to Sochi's unique natural environment to rights abuses against construction workers. Ecologists note with particular concern that parts of the Caucasian State Nature Biosphere Reserve, a UNESCO World Heritage Site, has already undergone irreparable damage.