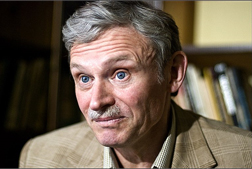 The BBC is reporting that a senior scientist has fled Russia out of fears of arrest motivated by his criticism of construction for the 2014 Winter Olympics in Sochi. The scientist, Dr. Sergei Volkov, is a geologist who until now has worked as a consultant for the Olympic Games, and he has spoken out on numerous occasions with concerns that the construction is going forward without proper geological research. With both the International Olympic Committee and the Russian state corporation responsible for construction in Sochi, Olympstroy, rejecting his concerns, Volkov has now fled to Ukraine to avoid possible arrest on trumped-up criminal charges.
Speaking to the BBC, Volkov said that construction of major Olympic facilities in Sochi is being done "too hastily, without a proper system for the engineering research that would be appropriate for these environmental dangers."
Numerous ecologists have been voicing concerns for years already that Olympic construction in Sochi will lead to irreparable damage of one of the world's most unique biospheres. In February, the Russian bureau of the World Wildlife Foundation issued a scathing press release slamming Olympstroy's failure to heed objections and warnings made by their ecologists, and decrying preparations for the games as "out of control." Meanwhile, residents have complained of forced evictions to make way for new facilities, and some unpaid workers have staged hunger strikes to draw attention to their plight.
But as a geologist, Dr. Volkov is primarily concerned about plans for a combination road and railway that will link the coastal center of the city of Sochi with the mountains in Krasnaya Polyana, where most of the Olympic events are planned to take place. When then-President Vladimir Putin won the bid in 2007 to hold the games in Sochi, only a very rudimentary roadway connected these two areas. With its $8 billion price tag, the new one is the most expensive Olympic project of all, and Volkov argues that its construction could lead to a series of geological disasters.
"It's a potentially dangerous area," said the geologist, writing an open letter to Russian President Dmitri Medvedev from his hiding place in Ukraine. "There have been big landslides in the past and there are large deposits of mercury, uranium and other potentially dangerous minerals. But all scientific advice is being ignored."
Dr. Volkov also says that he has repeatedly appealed to regional authorities in the Southern Federal District as well as Olympstroy management, but to no avail.
Speaking to the BBC – which notably happened upon an active landslide in the Krasnaya Polyana mountains during its research on this report – Krasnaya Polyana Mayor Sergei Avdeev said that he shared Dr. Volkov's concerns. "When the International Olympic Committee awarded the games to Russia, they knew full well that Russia did not have enough time to do proper research and build all the facilities in line with international environmental and construction standards," he said. "I pray to God that there will not be any consequences. The only thing we can do is pray and hope."
A video report on Dr. Volkov by the BBC can be found by clicking here, and a photo gallery by clicking here.