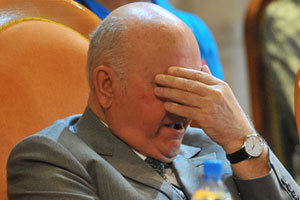 It's not unusual to hear accusations of corruption against Moscow Mayor Yury Luzhkov – but it is unusual to hear them from Russia's federally-run television channels. This past weekend saw a slew of reports denouncing the mayor and his billionaire wife, Yelena Baturina, for abuse of authority and total mismanagement of the capital, among other things. Both have already announced plans to sue for defamation:
"In the concluding days of this past week, a variety of media outlets, including all the federal television channels, actively dispersed negative information about the activities of the mayor and government of Moscow. Moreover, the television and radio stories and newspaper articles were notable for their lack of evidence," said a press release from the mayor's office.
As political scientist Georgy Bovt pointed out in a column for Gazeta.ru, many of the main ideas in the media reports came from "Luzhkov. Results," an opposition report published a year ago by former Deputy Prime Minister Boris Nemtsov and former Deputy Minister of Energy Vladimir Milov. At the time, the mayor and his wife both sued for defamation, but a Moscow court ruled that only one sentence in the 37-page report had to be reworded.
Nemtsov himself said on Monday that the weekend's reports constitute "a cinematization of our report. Which is nice." He added that while the television channels clearly appropriated his and Milov's writing, "information about Luzhkov's corrupt activities is far more important than referencing its original source."
Russian President Dmitri Medvedev also chimed in about Luzhkov on Friday. As the Moscow Times writes:
Luzhkov sparred openly with the Kremlin last week when he backed a highway through the Khimki forest outside Moscow and criticized Medvedev's decision to suspend construction work following environmentalists' protests.

Medvedev retorted Friday at a conference in Yaroslavl that he disagreed with Luzhkov's position and that "officials should either participate in building institutions or join the opposition."
But the fact that Medvedev is taking such a roundabout way of targeting the Moscow mayor is a sign of political weakness, critics say.
"Medvedev is not behaving like a president," said Nemtsov. "Instead of issuing an order to fire Luzhkov and investigate his activities within the frame of the president's declared war against corruption, he's throwing sand in a sandbox like an offended child.
"Medvedev's moment of truth has come – either he fires Luzhkov and becomes president, or he'll be the laughing stock of all of Russia," says Nemtsov.
Here's the initial 20-minute report by NTV – which, according to the newspaper Kommersant, was ordered, filmed, and edited in less than 24 hours. The opening narration, interspersed for ironic effect with Luzhkov talking about his honeybee collection, says:
Why does Moscow have the most expensive roads, and why are they constantly under repair? Why was Moscow choked by smoke, but its mayor rescued his bees? How the mayor's wife become the richest woman in Russia, and how his deputy got a watch that costs more than a million dollars. How the tastiest corners of our capital are divided up, and how those "friends" make a living. Why Moscow civil servants live in such houses, and how bees became more expensive than people. What does it mean to "cover up for one another," and what is the capital government keeping quiet about?
On top of everything, the newspaper Vedomosti cited a source "close to the Kremlin" on Monday as saying that the issue of Luzhkov's possible resignation will be resolved by the end of this week.
For more on the scandal:
Medvedev and Putin at odds over Moscow mayor – The Telegraph
NTV and Medvedev Target Luzhkov – The Moscow Times