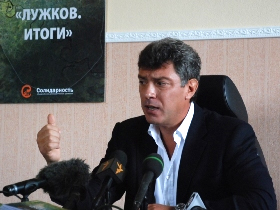 A Moscow court has found opposition politician Boris Nemtsov and the Kommersant newspaper guilty of libel against Moscow Mayor Yury Luzhkov, according to Nemtsov's lawyer Vadim Prokhorov on Monday.
Prokhorov said that the court has ordered Nemtsov, a former Deputy Prime Minister and leader of the opposition Solidarity movement, to retract his statement that "For many Muscovites, it has long been no secret that all levels of the Moscow authorities are penetrated with corruption."
Kommersant has been ordered to print a redaction of another statement by Nemtsov, saying "I consider Luzhkov to be a corrupt official and a thief."
Additionally, Nemtsov and Kommersant must pay the mayor 500 thousand rubles (approximately $17,000) in damages.
Prokhorov says that they plan to issue several appeals to annul the decision.
A second court case brought by Luzhkov's billionaire wife and founder of the Inteko construction firm, Elena Baturina, also charges Nemtsov with libel. The case has been postponed until December 22.
The source of discontent that instigated Baturina, Luzhkov, and the Moscow government to turn to the courts was a brochure written and published by Nemtsov entitled "Luzhkov. Results." In the brochure, Nemtsov blames Luzhkov for the deterioration of life in Moscow during his tenure as mayor, and also for unfairly awarding construction contracts to Inteko, which is said to have once controlled 20 percent of Moscow construction.
"We have irrefutable proof," Nemtsov wrote, "that Luzhkov favored Inteko while signing permits for commercial development, making Baturina the richest woman in Russia."
This is not the first such lawsuit filed by Luzhkov. Just weeks ago on November 12, the mayor sued controversial politician Vladimir Zhirinovsky for calling him corrupt. A Moscow court found Eduard Limonov, a leader of the Other Russia coalition and the banned National Bolshevik part, guilty of slandering Luzhkov in a 2007 case. Limonov was ordered to pay the mayor 500 thousand rubles for his statement on Radio Svoboda that "The Moscow courts are under Luzhkov's control."
Luzhkov, who has held the post of mayor in Moscow for 17 years and enjoys a 36% approval rating, has come under a recent wave of criticism for corruption, largely involving his wife's business. Some politicians, however, are worried that the end of Luzhkov's reign could result in a mayor more directly controlled by the Kremlin.
"The campaign against Luzhkov is being waged by pro-Kremlin forces. There is an order to hound him, but we won't take part in this," said Sergei Mitrokhin, leader of the liberal Yabloko party. "We don't want to see him removed because then they could appoint somebody who was unelected and who would do to Moscow anything the Kremlin happens to want."