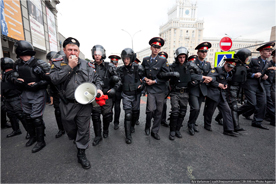 Two days after police violently arrested more than 100 ralliers at an opposition protest in Moscow, the Russian presidential administration is attempting to shift the blame for the trend of relentless crackdowns on protests away from itself and onto the Moscow city authorities.
In an article published Thursday in the Kommersant newspaper, an anonymous source in the presidential administration said that the routine crackdowns in Moscow of the opposition's Strategy 31 rallies in defense of freedom of assembly have nothing to do with President Dmitri Medvedev or any of his officials.
The statements were a response to the intentions of Aleksei Venediktov, a member of the Public Council on the Moscow City Police and Editor-in-Chief of Ekho Moskvy radio, to appeal to a presidential deputy "to put an end to the slaughter" that happens routinely at the hands of the police during the rallies.
According to Kommersant's anonymous source, Venediktov is barking up the wrong tree.
"The degree of activity of the police is determined by the administrators of the Moscow police and the city of Moscow," said the source. "To see the Kremlin's hand in the crackdown of demonstrations and to see this as a manifestation of any kind of personal ambitions would be to drastically oversimplify the situation."
Therefore, Venediktov's appeals to the presidential administration are unlikely to garner any results, he explained.
The statements come as tensions between the Kremlin and Moscow Mayor Yury Luzhkov, whose tenure has now stretched into its eighteenth year, have reached a height that analysts say may finally mark his demise.
In the past several months, the mayor has been lambasted by criticism from not only oppositionists, but the Kremlin, the leading United Russian party, and Prime Minister Vladimir Putin. Most recently, the timing of his end-of-summer vacation – which he took in the midst of a heat wave and forest fires that wreaked havoc on the capital – and revelations about government money spent on his private beehives have made him an easier target than usual.
The Moscow mayor's office is officially responsible for handling applications to hold rallies, protests, and other such events in the city. Luzhkov has routinely defended the decisions to deny sanction to Strategy 31 organizers on the basis of ensuring public safety, but has been caught in serious inconsistencies on multiple occasions.