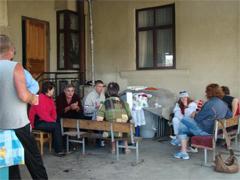 Residents facing eviction from their homes in the Black Sea city of Sochi continued a hunger strike for the 16th consecutive day on Thursday, Kasparov.ru reports. The move is a last-ditch attempt by residents to bring attention to what they say is the unfair amount of compensation being offered to them by the local government in exchange for their property, which the city plans to use to construct the primary facilities for the 2014 Winter Olympics.
Alik Le, head of a union of local residents, said that five of the ten original hunger strikers are currently continuing the protest that they began on May 19.
While local law enforcement representatives and doctors are present on the scene, no local or federal media has even remotely touched on the story, Le said.
"The regional media is blocking all information about us. Nobody in Russia knows what's going on. Foreign journalists have come to us, called, are supportive," he said.
About 700 families in the Imeretinskaya Valley are affected by the evictions, which residents say violate their constitutional rights and lay waste to generations of labor and cultivation. Meanwhile, the construction of six ice facilities for the games is already underway.
The continued hunger strike looks set to collide with the Official International Olympic Committee Debriefing in Sochi that begins on Sunday, where organizers of the Vancouver 2010 Winter Olympics will discuss with future organizers what lessons they learned from holding the games. Whether the media blockade will hold up with the influx of foreign journalists remains to be seen.
Criticism of Olympic preparations in Sochi has come not only from human rights groups, but from ecologists and geologists who warn that mismanagement by the Russian state-owned corporation in charge of the games, Olympstroy, has already caused irreparable environmental damage and could easily lead to much greater catastrophes.
Information about the consequences of the ongoing construction in Sochi has been virtually absent from the Russian media, leading many of its victims to take drastic measures to make their stories known. The Imeretinskaya Valley residents' hunger strike is at least the third protest of its kind to have been held since the beginning of the year; the other two involved construction workers forced to work months without pay. In April, the BBC reported that a senior scientist critical of how Olympstroy was failing to conduct proper geological surveying had fled the country out of fear of persecution.