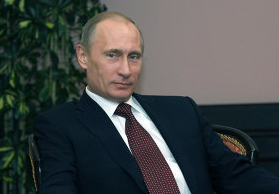 Earlier this week, former Russian Prime Minister Mikhail Kasyanov appeared in court to serve as a witness in the second court case against jailed oil oligarch Mikhail Khodorkovsky and his associate Platon Lebedev, accused by the Russian government of embezzlement and money laundering. During his testimony, Kasyanov said that the charges against the two were undeniably political, and described a series of conversations in which then-President Vladimir Putin admitted as much.
From the Moscow Times:
Kasyanov told the Khamovnichesky District Court that the changes were politically motivated and contradicted the everyday practices of oil companies.

"By the end of 2003, I had a clear understanding that both were arrested under political motives," he said.

Kasyanov said he tried to talk with Putin after Lebedev was arrested in July 2003 and Khodorkovsky was arrested in October that year, but Putin refused to discuss the issue with him. Only on the third try did Putin reply, he said.

"I asked Putin to clarify what he knew about the situation, but he refused twice, and then he gave me an answer," Kasyanov said.

"He said Yukos financed Yabloko and the Union of Right Forces, political parties that it was allowed to finance, but also the Communist Party, which it wasn't allowed to."
Khodorkovsky and his lawyers have been trying for months to convince the court to call the prime minister as a witness. Until Monday, it had dismissed this possibility as "premature," despite a series of questions penned by Khodorkovsky that only Vladimir Putin would be able to properly address.
After Kasyanov's testimony, the idea that such a subpoena would be premature made even less sense than before. Therefore, lawyers for the defense requested once again that the court call in Prime Minister Putin, as well as Russian Finance Minister Alexei Kudrin, arguing that new circumstances had come to light that made their interrogations necessary for the case.
On Thursday, however, the court turned down the lawyers' request. Judge Viktor Danilkin had said previously that he "did not find any legal basis" for the subpoenas, and now said that the new arguments by the defense left no different impression. The prime minister and finance minister would be interrogated only if they personally appeared in court, he said.
Prosecutor Vyacheslav Smirnov, meanwhile, made it clear that there would be no interrogation of the prime minister in the Khamovnichesky Court, period. When journalists asked him why, Smirnov responded: "Because we live on the ground."