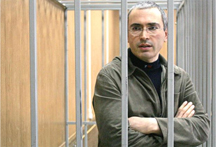 Mikhail Khodorkovsky, the ex-CEO of former oil giant Yukos who has been sitting in a Siberian jail since 2005 on controversial charges of fraud, has issued a series of questions that he demands Russian Prime Minister Vladimir Putin respond to in court. The questions and interview were published on Wednesday by the British newspaper the Independent.
Khodorkovsky, known as an oligarch who was once Russia's richest man, is currently facing new charges in a second criminal case against Yukos. He and co-defendant Platon Lebedev are accused by the Russian government of embezzling oil products in the sum of $27.5 billion, a charge the defense says is absurd and refuted by obvious, undisputed facts. Khodorkovsky's lawyers are now planning to call on the prime minister, who is widely believed to have personally ordered Khodorkovsky's arrest, as a witness in the case.
"Your prosecutors claim I ran Yukos not as an official chairman, but as the leader of an organized criminal group," Khodorkovsky asks Putin. "When you discussed Yukos's problems with me, with whom did you think you were talking?"
"Your prosecutors accuse me of stealing Yukos' production from 1998 to 2003. When you, in 2003, personally congratulated Yukos for its successes in commercial and social activities, is this what you were referring to?" he goes on.
Responding through his lawyers, Khodorkovsky told the Independent that he believes Russian President Dmitri Medvedev to be sincere in his stated desire to fight corruption, as well as to reform the country's law enforcement agencies and judicial system. "But reasonably soon, the president's actions will bring him to a boundary, after which specific changes will not be possible without modernizing the political system as a whole," he stipulated. Khodorkovsky added that whether or not Medvedev can successfully implement such modernization remains unclear.
During the interview, the imprisoned oligarch categorically denied rumors that he had been offered release under condition of leaving the country or staying out of politics.
Despite all talk of corruption, Khodorkovsky said that he does not believe the outcome of the current case against him to have been predetermined. "But whatever happens, I am going to defend my position and my innocence," he said. Asked whether he was prepared to spend another twenty years behind bars in the case that he is found guilty and handed a maximum sentence, Khodorkovsky asserted that he doesn't plan to despair.
Putin's press secretary, Dmitri Peskov, told the newspaper Vedomosti that the prime minister would be informed about the letter but was unlikely to read it, let alone answer it. He added that Putin usually does not enter into dialogue with convicts.
For the Independent article in its entirety, click here.