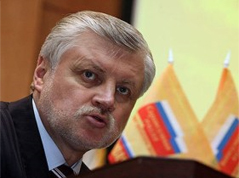 In the final days leading up to Russia's March 14 regional elections, the Central Electoral Commission is chastising Kremlin-loyal opposition party A Just Russia for leaflets picturing its own leader – a move critics are saying is an obviously hypocritical double-standard.
The leaflet in question picture Sergei Mironov, who heads the party A Just Russia and is also speaker of the parliamentary Federation Council, and calls on voters to "fight against administrative power." The Central Electoral Commission (TsIK) ruled on Wednesday that picturing Mironov violates electoral regulations that prohibit public officials from taking advantage of their official positions.
TsIK member Yevgeny Kolyushin of the Communist Party pointed out, however, that there had been complaints that the Kremlin-backed United Russia party was using pictures of President Dmitri Medvedev and Prime Minister Vladimir Putin the same way on their own promotional posters. If A Just Russia had violated electoral regulations, then United Russia clearly did as well.
According to TsIK representative Vladimir Churov, this was not the case: United Russia had every right to use the images of the president and prime minister. United Russia member Sergei Kostenko, who holds a non-voting seat on the TsIK, explained that since neither Medvedev nor Putin were not directly identified on the posters as president or prime minister, no laws were violated.
A representative of A Just Russia argued that Mironov himself was not identified as Federation Council Speaker on the party's leaflets, but the TsIK insisted that the phrase "administrative power" along with Mironov's face was an indication of his post all the same. The decision was made apparently in spite of the fact that if the TsIK was correct, then A Just Russia's leaflets would actually be implying that voters should fight against its party's own leader, as opposed to looking to Mironov as someone who will fight against administrative authority.
Mironov, who is a long-time Putin ally, became embroiled in political scandal last month when he criticized the prime minister's budget. A volley of colorful back-and-forth insults began to fly between A Just Russia and United Russia, and Mironov declared that he would be moving his party more towards the actual opposition. While the opposition itself had a mixed reaction to the controversy, some analysts argued that for Mironov to see criticizing Putin as politically advantageous was at least indicative that the prime minister's famously high popularity was not as safe as it once was.
A Just Russia is not the only party facing a government crackdown in the run-up to the elections. The Sverdlovsk regional election committee has banned the opposition parties Yabloko and Just Cause from appearing on the ballot, arguing that more than half of the signatures submitted with Yabloko's application were "unauthentic" or "invalid."
The March 14 elections will follow regional elections last October that were fraught with accusations of gross violations that gave United Russia sweeping wins across the country. A Just Russia was among three opposition parties at the time that staged a walkout from the State Duma, protesting blatant cases of fraud that independent bloggers were able to statistically document. President Dmitri Medvedev met with party leaders in response, but insisted that although the elections were "not sterile," they would not be annulled.