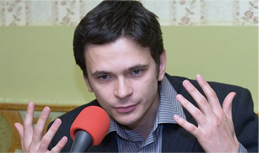 Russia's liberal Yabloko party made a controversial decision on Sunday to ban its members from participating in other political organizations, reports Interfax.
During its convention over the weekend in Moscow, Yabloko deputies voted to implement a ban that will force its members to cease participating in political organizations that they have deemed unacceptable: the Other Russia, Solidarity, the United Civil Front, Vanguard of Red Youth, Left Front, the banned National Bolshevik Party, the Russian Communist Workers' Party/Russian Party of Communists, the Russian People's Democratic Union, and members of the National Assembly.
According to the decision, "the convention stressed that the task to preserve and develop the party demands a clear and unambiguous approach to interaction with other parties, political and organizations."
Yabloko members will have three months to quit the aforementioned organizations or face expulsion from the party.
Additionally, deputies at once restored and again stripped party membership from Ilya Yashin, the former leader of Yabloko's youth branch who was expelled from the party last December for joining the opposition movement Solidarity, a decision judged as "inflicting political damage."
Yabloko originally made a statement on Sunday that Yashin's membership had been restored by the party's arbitration bureau, but the decision went to a vote after fifteen delegates complained.
The decision was then annulled, 62 to 20, with three abstentions.
Yashin said on Monday that he would no longer fight the decision. "Many decent and worthy people remain in Yabloko. I sincerely hope that they will be able to achieve reforms in the party," he said.
Boris Nemtsov, a former Deputy Prime Minister and leader of the opposition Solidarity movement, decried the decision in his blog on Monday. "What prompted this kind of decision can be understood. Most likely, [Yabloko leader Sergei] Mitrokhin and the party elite got fed up with blushing in front of their colleagues for supporting the corrupt Moscow authorities during the last 'elections' of October 11," among other hypocrisies.
Nemtsov added that another decision made at the convention – a refusal to demand the resignation of Prime Minister Vladimir Putin – was no less significant: "Putin's genuine democrats and oppositionists!" he declared.