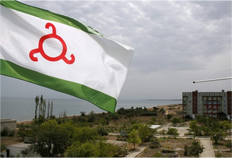 The widow of slain Ingush oppositionist Maksharip Aushev has been hospitalized after an attempt on her life, Kommersant reported on Thursday.
Fatima Dzhaniyeva was driving with her mother and two brothers in the Ingush city of Nazran when their car suddenly exploded.
Dzhaniyeva, who is pregnant, and one of her brothers were hospitalized with heavy wounds, while her mother and second brother died at the scene.
Investigators believe that the attempted assassination may be connected with the murder of her husband, opposition activist Maksharip Aushev, in October.
One investigator said that a bomb had been placed under the driver's seat either directly inside of the car or within the undercarriage.
"It's obvious that it was a well planned assassination attempt," said the investigator.
Maksharip Aushev was gunned down in his car by unknown assailants in the Kabardino-Balkaria territory of the Northern Caucasus on October 25. He died at the scene. His cousin, Tauzela Dzeitova, was hospitalized with heavy wounds, but passed away on December 6.
Aushev was a prominent businessman in the Russian republic of Ingushetia who turned to activism after his son and nephew were abducted in 2007, an incident that he blames on the republic's security forces. His colleague, former Ingushetia.org editor Magomed Yevloyev, was murdered in August 2008. Aushev had been determined to form an opposition movement that would use all lawful methods to stop bloodshed in the troubled North Caucuses.