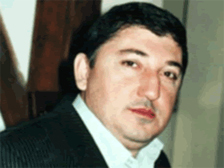 The main witness to the murder of Ingush oppositionist Maksharip Aushev died on Sunday evening, reports Ingushetia.org.
Tauzela Dzeitova was a cousin of the former activist, and was with him when Aushev's car was sprayed with machine gun fire in the Kabardino-Balkaria territory of the Northern Caucasus on October 25.
Aushev died on the scene from bullet wounds, while Dzeitova was heavily wounded. Doctors at the Kabardino-Balkaria state hospital performed five operations on Dzeitova, but classified her condition as serious. She regained consciousness at the end of October, but investigators refrained from questioning due to her fragile condition.
With the death of Dzeitova, there remain no known witnesses to the attack.
Maksharip Aushev was a prominent businessman in the Russian republic of Ingushetia who turned to activism after his son and nephew were abducted in 2007, an incident that he blames on the republic's security forces. His colleague, former Ingushetia.org editor Magomed Yevloyev, was murdered in August 2008. Aushev had been determined to form an opposition movement that would use all lawful methods to stop bloodshed in the troubled North Caucuses.