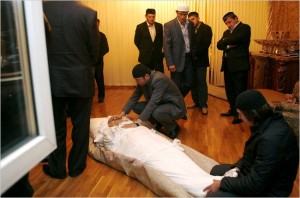 A prominent Ingush human rights activist slain on October 25 had warned that any attempt on his life should be considered the work of government security forces. The assertion comes as materials from the personal archive of the victim, Maksharip Aushev, were made available by colleague Roza Malsagova on Tuesday. According to the materials, Aushev stressed six months prior that he had been "in good health" and was "indebted to nobody and in a blood feud with no one."
The source of Aushev's fears was backed by colleague Musa Pliev, aid to the Ingush president and representative of the family of another slain oppositionist. According to Pliev, the current murder investigation must change its focus to consider a political motive. The five possible motives outlined by authorities, which Pliev called "absurd and baseless," include criminal associations, promises of aid to demonstrators who faced possible prosecution, and an extramarital affair. Pliev asserts out that Aushev was never associated with any criminals, and that the demonstrators Aushev supposedly promised to help have long since been freed. The woman he is accused of having an affair with is a cousin, and was a passenger with Aushev when their car was sprayed with machine gun fire on Sunday.
Ingush President Yunus-bek Yevkurov blames the murder on the republic's security forces. In an October 26 interview on the Echo Moskvy radio station, Yevkurov said that he took the news of the murder "with severity," that the crime aimed to destabilize the republic, and that it had been directed against him personally. The president has pledged to put all possible resources behind the investigation.
According to Yevkurov, the leaders of the republic had nothing to do with the murder.
While Aushev supported Yevkurov's efforts, he had lost faith in the president months before he was killed.
According to Aushev's writings, President Yevkurov "has fallen under the influence of the security forces, which have continued these six months [since he assumed power] to abduct, torture, and kill people…not a single time did he speak of how the tyranny of the security forces was inadmissible, but with their own actions they made clear who was in charge."
Tatyana Lokshina, Deputy Director of the Human Rights Watch Moscow bureau, agrees that the murder calls into question Yevkurov's ability to protect the pluralism in the republic that he supports. She stated that citizen activism had become "practically a form of suicide" in the Northern Caucuses, and called on the Kremlin to act.
The Kremlin installed Yevkurov as president of Ingushetia after removing grossly unpopular Murat Zyazikov a year ago this week. Zyazikov and his family face personal and financial ruin if the Prosecutor General decides to bring criminal charges of embezzlement.
Aushev's murder marks at least the fifth activist killing in the Northern Caucuses this year alone, in a region plagued by government corruption and violence. Security forces in charge of controlling the insurgent violence spilling over from neighboring Chechnya are widely accused of abductions and extrajudicial killings that remain largely uninvestigated. As of July of this year, 170 persons have been kidnapped in Ingushetia, and while abductions have recently lessened, murders have increased. Magomed Yevloyev, former head of Ingushetia.ru (since changed to Ingushetia.org) and close ally of Aushev, was shot and killed by security forces while detained on August 31, 2008.
Maksharip Aushev's car was shot with approximately sixty bullets as he and cousin Tauzela Dzeitova drove through the Kabardino-Balkaria territory in the Northern Caucasus on October 25. He died in his car of bullet wounds, while Dzeitova was hospitalized and has undergone several operations. He had been the victim of a failed kidnapping attempt on September 15 shortly after leaving a meeting with government authorities.
Aushev was a prominent businessman in the Russian republic of Ingushetia who turned to activism after his son and nephew were abducted in 2007, which he blames on the republic's security forces. He had been determined to form an opposition that would use all lawful methods to stop bloodshed in the troubled North Caucus region. More than two thousand people attended his funeral on October 26.