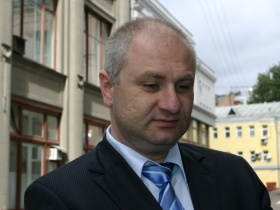 Hundreds of people took to the streets of Ingushetia, one of Russia's southern republics, after an opposition leader and businessman was shot and killed while in police custody.
Magomed Yevloyev, a fierce critic of Ingush President Murat Zyazikov, was detained Sunday as he landed in Nazran, Ingushetia's main city. Police claimed that he tried to resist arrest, and was shot in the ensuing scuffle. Yevloyev's attorney, meanwhile, said his client went peacefully into custody, and that he was shot while driving with police, and thrown from the car near a hospital. The opposition figure died while receiving care.
Yevloyev was the owner of an online news portal, Ingushetiya.ru, which was known for independent news and reporting from the republic. The website aired many views critical of the current Ingush administration, and reported on government corruption. Authorities had repeatedly targeted the site, which was branded "extremist" and ordered shut by a City Court in June. Its editor-in-chief, Roza Malsagova, fled Russia to seek political asylum in France after a number of politically-motivated criminal cases were launched against her. Malsagova said she had received threats from officials.
Ingushetia, which has a predominantly Muslim population, has experienced rising levels of violent crime, with frequent attacks on militsiya and security officials. Zyazikov's administration has responded with a heavy hand, and has been accused of using excessive force against civilians and opposition activists.
A number of rights organizations, including Human Rights Watch, the Moscow Helsinki Group and Memorial, have called for a full investigation of Yevloyev's death.
Local activists, meanwhile, said that Zyazikov may be directly involved. Yevloyev's relatives have apparently called for a blood feud against Zyazikov and Ingush Interior Minister Musa Medov, vowing to avenge Yevloyev's death.
Ingushetiya.ru continues to publish material, and has relocated its servers to the United States.
—
Further reading:
Ingushetiya.ru editor-in-chief Roza Malsagova accuses Murat Zyazikov of direct involvement in Magomed Yevloyev's death in an open letter, published on the website.

An Open Letter to Murat Zyazikov, President of Ingushetia
Appealing to a murderer, whether an Ingush or the president of the republic, who shoots his own citizens in broad daylight, is immoral. There is no doubt that it was precisely you who gave the order for yet another extrajudicial execution. Doing this, you wanted to silence us, if you could, as during the times of the inquisition, you would have poured molten tin in our throats. I, the "commissar in a leather jacket," as you deemed to call me, am telling you that God's court will surely judge you. For every drop of spilt blood in the republic, you will have to answer before the Almighty, but first – before the Ingush, and if there are still men on this earth, first you will stand before them. Unlike you, Yevloyev was never a coward, he didn't hide, he didn't run away through back-door pathways. When militsiya officers were being shot, he didn't hole up in the "President-hotel," tucking in his rat's tail. Giving interviews left and right about the "land of inter-ethnic friendship" and the "investment potential," you assert that you know nothing about contract killings in the republic. Name at least one solved murder during the years of your tyrannical rule. What, did they solve the murders of the six-year-old Rakhim Amriev, Apti Dolakov, Kalimatov, Yandiev, Chakhkiev?.. Hundred have been killed during the time of your "rule," with no one found responsible, with no killers. Only "terrorists" and "members of armed gangs!" Yevloyev wasn't yet 37, and he leaves three small children, two of them sons!
If you still had something human in you, you would have at least though of them, before orphaning young children. "I am not saying that a blood feud is good, but it is a deterrent. It's simply that if a person goes for it, he knows very well what he's doing. Of course, it's difficult afterwards for people to let him alone without a reaction, but none the less, there is no accidental moment." ("Conversation without rules" [a Russian television show], featuring Ingush President Murat Zyazikov.) I think that you realized what you were heading toward, when you made the order to execute Yevloyev!
The independent Ingushetiya.ru news portal will continue its work in its current state until Zyazikov shoots us all, or until he is removed. There is no alternative.
Magomed Yevloyev will be put into the ground on the first day of the holy month of Ramadan.
Roza Malsagova, editor-in-chief of the independent Ingushetiya.ru internet-portal.
translation by theotherrussia.org.