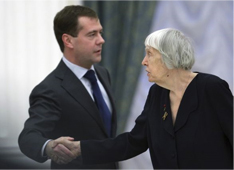 Russian President Dmitri Medvedev held a meeting on Monday with the presidential Council on the Development of Civil Society to discuss the war on corruption and the state of non-profit organizations in Russian society. Human rights advocates and other public figures at the meeting brought several controversial topics to the attention of the president, including the scandalous death of lawyer Sergei Magnitsky and abuses within law enforcement agencies.
The Kremlin meeting with the council was the second this year, and participants discussed a variety of issues for more than three and a half hours in hopes of achieving concrete results.
In his opening remarks, President Medvedev noted that the law had been amended to reflect the discussion held during the first meeting on April 15 and that he was in favor of extending financial, material, and consultation support to non-profit organizations. He stressed, however, that much more needed to be done. "I am not a supporter of dramatizing anything," Medvedev said.
Ella Pamfilova, head of the council, assured Medvedev that her group was ready to put forth effort to fight corruption but had strong reservations about the process. "There is one serious problem – who will realize this and how it will be realized," she said.
Participants told Gazeta.ru that significant time was spent discussing problems of the effectiveness with the war on corruption. Complaints filed by citizens concerning the behavior of public servants are often answered by those same public servants, which Kirill Kabanov, Leader of the National Anti-Corruption Committee, insisted must be prohibited.
Kabanov said that the president was presented with detailed documentation of violations in law enforcement agencies, and that Medvedev understands very well that taking authority away from public servants would not be an easy task. Since many have become accustomed to cashing in on their positions of authority instead of fulfilling their actual duties, says Kabanov, the government must give "a signal to bureaucrats that we're speaking seriously."
Pamfilova addressed the scandalous death of 37-year old Hermitage Capital Management lawyer Sergei Magnitsky, who died on November 16 after being denied medical treatment in a Russian jail, where he had been held for a year without charge. "It's a frightening tragedy when a 37-year old lawyer perishes and the perpetrators aren't known, but only under investigation," she said. Bill Browder of Hermitage Capital Management, which has campaigned against numerous corrupt Russian politicians and bureaucrats, directly blamed the prison for the death. "He was their hostage and they killed their hostage by denying him medical attention," he told the BBC.
The discussion between the president and the council did not include the fraudulent regional elections on October 11, which the president has admitted were flawed but refused to annul, saying that any issues should be resolved in court. He dismissed Pamfilova's concern that Russians have a very skeptical view of their judicial system, and that recommendations to resolve controversial problems in the court were largely seen as mockery. "What can be an alternative to an appeal to the court?" Medvedev asked in response. "Either lynching, which we, as you understand, have undertaken at more than once point in the history of our government at various times, or an appeal to the party committee. And both of those are located far from the main path of the development of civilization."
The presidential council is set to meet again in spring 2010, which Pamfilova has proposed be dedicated to a discussion of the volatile situation in the North Caucuses.
President Medvedev has stated on numerous occasions that the war on corruption was a high priority for his administration. A number of recent scandals, however, have garnered skim responses from the Kremlin. An internal memo was obtained on November 16 by activists that indicted police chiefs of conspiring to illegally disrupt a series of lawful protests. A police officer in Novorossiysk came forward earlier in the month with 150 hours of audio backing up claims he first posted on YouTube detailing corruption in law enforcement agencies. Blatant fraud in the October regional elections has been statistically documented, but was at once acknowledged and dismissed by the president.