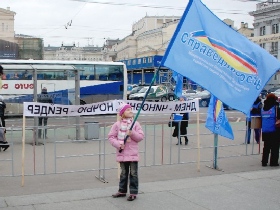 Police have forced their way into the offices of the Justice human rights group in Moscow and are conducting a search, the Interfax news agency reports, citing a lawyer for the organization.
"Around 20 people have broken into the office," said Stalina Gurevich, the organization's attorney.  "The officers have said that they're from the Main Investigation's Directorate."
"6 people are now being illegally held in the office," she continued.  "They are not releasing them from the building."
Gurevich said the officers did not show any documents or a search warrant, describing the raid as unlawful.  "They say they came to search a different organization, which rents the building along with us.  At the same time, they assert that they came to the address of Baumanskaya street, house 6, while the address of our office is Baumanskaya street, house 6, building 2."
"We have been leading a firm battle with Moscow region Transport Minister Pyotr Katsyv.  What happened at Justice today is connected with this," Gurevich said.
The Justice group has accused Katsyv, along with his deputy, Alexander Mitusov, of illegally seizing several businesses in the Moscow oblast, as well as land in the Krasnogorsk district.  The organization estimates the damages resulting from this at 8 billion rubles ($256mln or €185mln).
Stalina Gurevich has worked extensively as a human rights attorney.  She currently represents the interests of newspaper editor and eco-activist Mikhail Beketov, who was brutally attacked in November 2008.