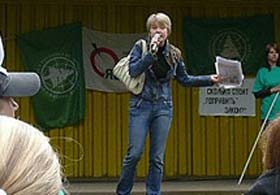 An independent mayoral candidate in the Moscow suburb of Khimki has been pulled from the ballot for what supporters call ridiculous reasons, the Ekho Moskvy radio station reports.  Yevgenia Chirikova, who heads an environmental group in the town and has fought with officials over a highway construction project, said she was accused of breaking fundraising rules.
The local electoral commission claims that some of the people who donated to Chirikova's campaign did not include their full passport information and citizenship in the official forms.  The candidate maintains that all the information was correctly written.
In an interview with the Russian News Service, Chirikova said the Khimki administration was simply trying to prevent an independent candidate from running in the election.
Oleg Mitov one of Russia's best know environmentalists and the deputy head of Russia's environmental protection agency, said the reasons given for Chirikova's removal were "ludicrous and contrived."
Chirikova pledged to appeal the decision in court.  She is also starting to worry about her security, and has turned to police and asked for their protection.  According to Chirikova, she started receiving death threats after attorney Stanislav Markelov was killed.  The attorney, who was a prominent human rights defender and had worked with Khimki environmentalists, was gunned down in central Moscow on January 19th.
Other activists who spoke out against city officials in Khimki have also been threatened and attacked.  Mikhail Beketov, the editor-in-chief of the Khimkinskaya Pravda newspaper, was attacked and brutally beaten on November 14th. Beketov was a staunch opponent of a proposed Moscow-St. Petersburg superhighway, which would have destroyed a pristine stretch of recreational forest in Khimki.  Beketov had worked closely with Chirikova and remains in critical condition.