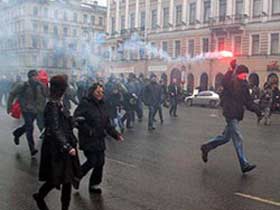 Since 2006, the Russian political opposition and the Other Russia coalition have held vocal yet peaceful protests around Russia. Known as "Marches of Dissent," the demonstrations bring out thousands of ordinary Russians who want to exercise their right to free assembly.
Organizers have been careful to alert city officials well in advance, and to do everything in their power to obtain permits for the events. Yet after countless rebuffs, stalling and poor responses on the part of City Hall, organizers say that working with authorities has become impossible.
The most recent protests, set to take place in Moscow and St. Petersburg on December 14th, have proven the point. In both cities, officials have denied the proposed marching routes, and have made negotiations difficult. Organizers said both cities seemed intent on banning the Marches.
The protest's organizing committee went as far as suggesting that it may stop notifying city officials about the protests altogether.
"If City Hall refuses to agree to the demo, and the rights of the marchers are violated again," said Aleksandr Averin, a committee member, "the organizing committee of the March of Dissent will not continue with the unworkable practice of submitting notifications in the future, and will instead directly invoke the Constitution of the Russian Federation, which proclaims that citizens have the right to the freedom of assembly."
Other Russia leader Garry Kasparov echoed the same sentiment, pointing out that the Moscow city government had no legal right to curb the March:
"Let the mayor's office make a decision," Kasparov told the Interfax news agency. "The selectivity of Moscow city authorities is mind-boggling. They let the KPFR (Communist Party of the Russian Federation) and numerous pro-Kremlin movements stage mass events."
"I would like to remind [them]," he added, "that only those representing the authorities have ever resorted to violence at Marches of Dissent, while there were no incidents from our side."
—
Read more about the May 6, 2008 March of Dissent, which was canceled out of concern for the safety of participants.