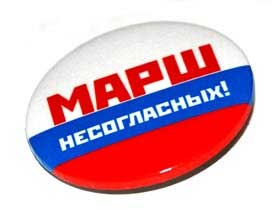 On December 14th, the Other Russia opposition coalition will hold large-scale protests known as Marches of Dissent in Moscow and St Petersburg. Details about the demonstrations were released by the Other Russia press-service, and reported by the Sobkor®ru news agency on November 17th.
The Moscow protest is planned to start at 14:00 in the Triumfalnaya Ploshchad (Triumph square), concluding in a march down Tverskaya ulitsa. The main issues behind the event are the Russian economic crisis, and proposed changes to the Russian Constitution, which would extend presidential term limits. The meeting will coincide with the anniversary of the Decembrist uprising, which took place on December 14, 1825 in imperial St. Petersburg.
A sister protest will take place in the Senatskaya Ploshchad (Senate square) of St. Petersburg. Attendees plan to gather on the Nevsky prospekt near the Gostiny dvor metro station.
Past Marches of Dissent have drawn thousands of people into the streets.
Figures in the Russian opposition are concerned with Constitutional changes proposed by Russian president Dmitri Medvedev in his yearly state-of-the-union address. The amendments would extend term limits for both the president (from 4 to 6 years) and delegates to the lower house of Parliament, the State Duma (from 4 to 5 years).
On November 14th, the State Duma adopted the draft amendments in the first reading. The second and third readings will take place on November 19th, and 21st. After that, the amendments will go to the Federation Council, then to regional legislatures before ultimately returning to the president for signing.