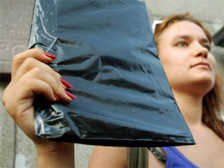 Participants in the latest Day of Wrath rally on Wednesday were arrested while trying to deliver their list of demands to the presidential administration building in Moscow, Kasparov.ru reports.
Approximately 200 people participated in the rally, which is held regularly on the 12th of every month to provide a forum for Russians to express their collective discontent with government authorities. The protesters hailed from a variety of opposition and civil rights movements, including the Moscow Council, the Committee for the Protection of Human Rights, For Human Rights, the Left Front, the Moscow Workers Council, groups of automobile owners, environmental activists, and others.
Gathered near the Kremlin on Teatralnaya Square, the group chanted anti-government slogans such as "it's time to change the government," "Russia without Putin," "it's time to change course," and "fictional elections are illegal," the latter representing protesters' current main grievance. Several leading activists, including Sergei Udaltsov, Lev Ponomarev, and Konstantin Kosyakin, gave speeches calling for a boycott of December parliamentary elections and telling people to go out into the streets in a sign of protest.
Police had thoroughly cordoned off Teatralnaya Square, with rows of officers lining the path from the square to the nearby metro in order to prevent participants from moving outside of their designated area of protest. The event had been sanctioned by Moscow city authorities, but an application to hold a subsequent march to the presidential administration building was turned down on the basis that it would cause traffic jams. However, Kosyakin proposed that the group march anyway, in spite of the ban.
The would-be marchers were immediately halted by police, with four arrested in total. As of Wednesday night, the activists were still in police holding.
A total of nine Day of Wrath protests have been declared unlawful by Moscow city authorities and cracked down upon between 2010 and 2011. Today's was the first to be granted sanction in a long time, the ban on the march notwithstanding.
Following a Day of Wrath protest this past August, organizers announced that they were giving government authorities a month to organize a meeting between members of the country's top leadership and themselves to discuss the demands of participants in detail. The meeting, however, never took place.