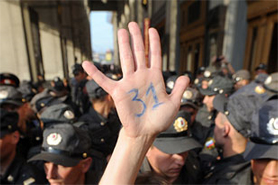 After a year and a half of consistent rejections, the Moscow city authorities have – sort of – agreed to allow opposition activists to hold a rally on the capital's Triumfalnaya Square on October 31 as part of the Strategy 31 campaign in defense of free assembly.
Aleksandr Averin of the Other Russia opposition party told Kasparov.ru that rally organizers received a proposal from the mayor's office on Wednesday to hold the rally on either Pushkin Square, Bolotnaya Square or a small strip of Triumfalnaya Square between the Peking Hotel and Brestskaya Street.
"The problem is that the authorities are prepared to sanction a rally numbering 200 people in this section, and not 1500," he noted.
Averin said that the three Strategy 31 organizers – former Soviet dissident Lyudmila Alexeyeva, Other Russia party leader Eduard Limonov, and Left Front representative Konstantin Kosyakin – would announce their official response to the city's proposal on Thursday.
Days earlier, online newspaper Gazeta.ru reported that the pro-Kremlin youth organization Young Russia has received permission to hold a rally to promote giving blood – but not an actual blood drive – also on Triumfalnaya Square on October 31.
Young Russia's application had originally proposed holding the event on either Triumfalnaya or Pushkin Squares, "but the mayor's office agreed to have our action be held precisely on Triumfalnaya," said the organization's press secretary, Natalia Maslova.
Opposition activists have maintained for months that rallies organized by pro-Kremlin youth movements for the same date, time, and place as Strategy 31 events are simply attempts to take up the space so that oppositionists are unable to use it.
The fact that the Moscow mayor's office only agreed to let 200 people rally on Triumfalnaya may be connected with recent comments by prominent Kremlin ideologist Vladislav Surkov – comments that do not bode well for the future of the opposition's movement.
Following the dismissal of longtime Moscow Mayor Yury Luzhkov, Surkov spoke in an interview with the business magazine Vzglyad about the controversy surrounding Triumfalnaya Square. Surkov called the Strategy 31 protesters "virtual heroes and martyrs" who "really couldn't organize anything," and said that "any new [Moscow] government, per Russian tradition, will show generosity."
"We are completely unconcerned with such events," Surkov went on. "For a democratic state, they are completely normal. The main thing is that everything be done according to the law. If two hundred people in Moscow, a city of many millions of people, want to gather without fail on the 31st date and without fail on Triumfalnaya – let them gather."
Since Strategy 31 events are regularly attended by upwards of one thousand protesters, Surkov's statement that only 200 would want to gather on Triumfalnaya may be based on police statistics of the number of rally attendees, which are often much lower than the attendance as reported by independent media sources and opposition organizers.
Surkov went on to say that "the opposition should not get the feeling that everything is permitted to them. They aren't permitted everything."
"Over the course of these past few years, all of the actions of the city authorities and the Moscow police in regards to all street actions, all rallies and marches, sanctioned and unsanctioned, have been lawful and correct," Surkov argued. "I would say – irreproachable. I'm sure that this is how it will be in the future."
The actions that Surkov has judged as "irreproachable" include scheming to deny oppositionists space to hold their events and calling out riot police and internal military forces to brutally beat and detain hundreds of peaceful protesters.