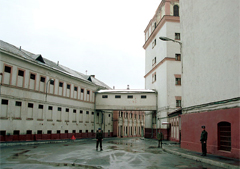 A roundtable discussion between Russian human rights activists, public figures, and other experts has concluded that the fact that torture is used throughout the Russian police and prison systems is not a cause for concern within the executive and legislative branches of government, Kasparov.ru reports.
Wednesday's roundtable was held under the title "Medical Aspects of the Use of Torture." During the course of discussion, experts gave various accounts of how torture in the Russian Federal Penitentiary Service and the Internal Ministry, which controls the police, had developed into a social norm that the government is not interested in addressing.
Public Council member Andrei Babushkin addressed how torture was employed specifically within the police, arguing that young people who decide to work in law enforcement often get the impression that the results they desire from detainees are fully achievable by simply using their fists.
Andrei Mayakov, deputy chairman of the Committee for Civil Rights, brought attention to the established practice in pretrial detention facilities where detainees are intentionally denied medical treatment for any injuries they might have. Moreover, medical professionals working in these facilities often fail to report instances when they suspect torture is being used against a detainee, he said.
Whereas the use of torture is punishable in many European countries by a significant prison term – up to a life sentence in Great Britain, for example – its maximum term under the Russian Criminal Code is seven years in prison, the experts noted.
Public Council Representative and Moscow Public Oversight Commission head Valery Borshchev noted that human rights advocates had begun to carry out cell-by-cell inspections of detainees located in pretrial detention facilities after the deaths of businesswoman Vera Trifonova and lawyer Sergei Magnitsky, both of whom died this past year in the Moscow pretrial detention facility Matrosskaya Tishina.
Borshchev proposed that a special registry be set up in Moscow's law enforcement agencies to record the circumstances of how cases of torture were allowed to occur.
"We cannot exterminate this evil, but it is possible to reduce it and make it so that torture ceases to be a norm," said Borshchev.
Russia has been accused of using torture by a variety of international rights advocacy groups. A report in January by the United Nations blamed Russia for holding detainees in secret prisons that are meant to cover up the fact that torture or other ill-treatment is practiced in such facilities. Amnesty International has accused Russian law enforcement agencies of using torture both in the North Caucasus and throughout the rest of the country. Opposition activists and human rights advocates routinely report cases of torture by the police, and the Russian Internal Ministry itself has admitted that torture is used on a regular basis.