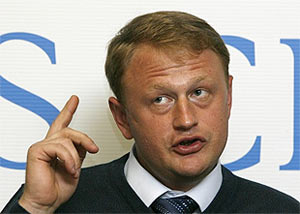 Former Police Major Aleksei Dymovsky, who gained widespread notoriety last November as Russia's whistleblowing "YouTube Cop," has issued a final video address to President Dmitri Medvedev, giving the president a deadline to once and for all respond to his allegations of corruption in the country's police forces.
Dymovsky is notably more heated in this latest video than the original clips he posted online last year – not surprising, considering that those videos resulted in him being promptly fired from the Novorossiysk police department and forced to flee to Moscow, where he was then arrested and charged with laundering money from the police department's operational budget. Those charges, which Dymovsky and his supporters maintained were ridiculous and obviously politically motivated, were finally dropped earlier this month.
"You know, from the moment that my first video address was released, already five months have passed," says the ex-major, addressing President Medvedev. "I think that in that time you could have paid some kind of attention." But indeed, the Russian president has not once publicly acknowledged the existence of either Dymovsky, his videos, or his allegations. And they certainly would have been hard to miss: Dymovsky's press conference when he first arrived in Moscow was packed beyond capacity, as few sectors of Russian society disagree on the need for drastic reform of the police. But while Medvedev has made several proposals in the past few months to that end, experts question their efficacy and positive results have yet to be seen.
Dymovsky goes on in his video to accuse the president of "jumping around abroad" and ignoring problems in his own country, before launching into a tirade against a swath of high-ranking government officials, including Prime Minister Vladimir Putin, for spending their time fighting over money to buy up Pacific islands and "wiping their feet on the Russian people." Appealing to Medvedev "as a man," the ex-major asks Medvedev to bring criminal charges against Putin for a number of national tragedies in which, according to Dymovsky, the prime minister has direct responsibility. Evoking such incidents as the Nord-Ost theater siege in 2002, the Beslan school massacre in 2004, and the Moscow metro bombings just last month, the ex-major insists that "for every drop of blood spilled, someone should be punished." Russians, he says, want to live in a country that is safe for themselves and their children.
Since Dymovsky posted his first video exposés last November, police officers from all over Russia have come forward with similar videos and accusations of institutionalized corruption throughout the ranks of the Russian police. The wave of videos reflects a recent trend in which ordinary Russian citizens, feeling that their grievances will go unheeded by government institutions, post videos online detailing police abuses of authority. Some of the clips, such as a recent one in which a man details how he was used by traffic police as a human shield in a hunt for armed robbers, have gone viral and sparked outrage in many Russians.
In his closing remarks, Dymovsky gives the president a deadline to rectify such problems or face an angry rally on Red Square. "Nobody will forgive you for what's happening in Russia today," says the former officer. "Remember every mother's teardrop, remember every baby's teardrop, starting from 1917. The Russian people remember it. So that said, I advise you to establish order by November 12, 2010, or to step down together with your cabinet. How many more facts do you need, how many more videos do you need about the fact that lawlessness is stirring in Russia? That a genocide of the Russian people is being committed?"
If Dymovsky does follow through with his plan to stage a massive demonstration – especially on as high-profile a place as Red Square – he will be faced by the same basic organizational problem faced by Russia's entire political opposition: according to the Rosbalt newspaper, Dymovsky says that journalists have been prohibited from writing about him altogether. It was this media blockade that forced him to film another internet video instead of holding a press conference, he says.
But Dymovsky is a man who has voluntarily given up his career, risked his own and his families lives, been forced out of his home, been charged with a variety of nonexistent crimes, and been sent without proper clothing in the middle of winter to sit in a criminal investigative detention center for more than two months – and he still isn't backing down. The resolve in Dymovsky's voice as he issues his final line to Medvedev is undeniable: "Remember who you are, and who we are."
Dymovsky's video in Russian can be viewed by clicking here.