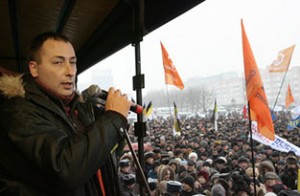 As thousands of Russians get ready for massive protests across the country on Saturday, a new poll is indicating that a full fifth of the country's citizens are prepared to take part in large demonstrations to express their objections to falling standards of living and the suppression of their rights.
According to a poll conducted by the independent Levada Center and released on March 18, the majority of the 27 percent of protest-minded Russians consisted of young people between the ages of 18 and 24 who lived in large cities such as Moscow and St. Petersburg. Middle-aged Russians who were moderately educated and had low incomes were the next largest demographic, while residents of small towns and adults with high salaries were the least likely to have any interest in demonstrations.
Expectations that large-scale protests would actually be held was up by 5 percent in the last half year, and Russians' willingness to participate in them was up 3-4 percent, said the report.
Levada Center Deputy Director Aleksei Grazhdankin said that while the rise in pro-protest sentiments was typical for the spring, the increased belief that demonstrations of a meaningful size would actually be held was notable.
"This is explained by the fact that protests, for example in Kaliningrad, have become more visible," said Grazhdankin. He also said that the survey indicates a marked rise in both the amount and quality of information concerning large-scale demonstrations.
In what has been dubbed the United Day of Protest, massive demonstrations are planned for Saturday in cities throughout Russia. Those taking part include a vast range of opposition parties, trade unions, human rights advocates, civic organizations, and ordinary Russians in protest against falling standards of living, suppression of human rights, unfair tariffs, environmental degradation, and the continued monopolization of the Kremlin's United Russia party over the political life of the country. They are protesting in support of the call for Prime Minister Vladimir Putin to resign.
The protest planned to take place in central Moscow on Pushkin Square has been banned by city authorities. While organizers were in negotiations with the mayor's office on Friday, they said the demonstration would be held regardless of the outcome. Representatives of the Moscow City Police meanwhile promised that, if held, the rally would be dispersed and its organizers brought to court. Protests have also been banned under various pretenses in the cities of Kazan, Vladivostok, and Kaliningrad.
In an online interview held by the news website Gazeta.ru and published on Friday, State Duma Speaker and United Russia member Boris Gryzlov said that oppositionists were being paid large sums of money to organize protests against the government.
"There is reliable information – and as a member of the Safety Committee I know it – that sufficiently serious money is paid for participation in these rallies," said Gryzlov during the conference. He went on to claim that oppositionists are unable to come to terms with the fact that United Russia does so well at the polls and therefore attempt to draw people out into the streets.
"It's a dangerous development of events," Gryzlov went on, referring to a recent increase in the size and number of anti-government demonstrations. "Here we sense the color and taste of the colored revolutions. And we sense those same ideologues that get money from a large number of non-governmental organizations from abroad, and create tension with this money that attracts specific citizens to the rallies."
Gryzlov added that the ultimate goal of opposition parties was to "weaken the state."
Organizers of opposition demonstrations in Russia have long been suppressed by the government. Moscow city authorities have turned down each of the half-dozen applications filed by the Other Russia opposition coalition within the past year to protest in defense of the constitutional right to freedom of assembly, including one planned for later this month, and police arrested 160 participants in a sizable demonstration last January.