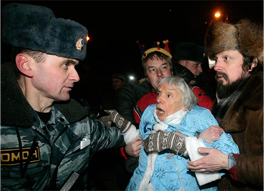 View Photo Gallery
At least 60 protestors were detained by police on New Year's Eve night in Moscow for participating in a rally promoting the freedom of assembly, Kasparov.ru reports.
Approximately 400 people attended the rally, which was organized by leaders of the Other Russia opposition coalition.
Eyewitnesses claim that police acted with particular brutality when arresting journalists and photographers.
Among those detained was 82-year old Lyudmila Alexeyeva, a former Soviet dissident who now heads the influential rights organization Moscow Helsinki Group.
Ilya Yashin, a rights leader and member of the Solidarity movement, claims he was detained immediately upon appearing at the rally and denied the reason for his arrest.
Members of the pro-Kremlin youth organization Young Russia attempted to provoke protestors early in the evening by scattering flyers printed with the phrase "Bad Santa will not pass!" while a young man dressed in a Santa Claus costume offered flights "home" to America and large sums of money.
All those detained at the protest were released the same evening at approximately 10 pm. Moscow Chief of Police Vladimir Kolokoltsev had allegedly ordered all the protestors to be released by 9:30 that night.
The actions of the Moscow police drew widespread scorn from the United States, the European Union, and domestic and international human rights groups.
In a press release from United States National Security Council Spokesman Mike Hammer late on December 31, the White House expressed its dismay at the attempts of authorities to prevent citizens from peacefully protesting: "In particular, the United States notes with concern the detention of protestors, including prominent human rights defender Lyudmila Alexeyeva, and reports of their mistreatment by authorities while in custody."
The release went on to mark the importance of freedom of speech and assembly, adding that "The United States stands with those dedicated to promoting these human rights."
European Parliament President Jerzy Buzek expressed similar dismay concerning the detention of Alexeyeva.
"I am deeply astounded, that this highly regarded 82-year old woman spent New Year's Eve night under arrest," he stated.
Buzek noted that Alexeyeva had been among recipients in 2009 of the European Parliament's Sakharov Prize for her work in human rights. He added that she had been asked at a press conference following the ceremony whether she was afraid to return to Russia.
"The actions of the police in Moscow gave a very disconcerting answer," Buzek concluded: "Human rights activists in Russia still cannot freely hold demonstrations."
The New Year's Eve rally was part of a series of demonstrations held by the Other Russia coalition on Moscow's central Triumfalnaya Square on every month with a 31st day, in reference to the 31st article of the Russian Constitution guaranteeing freedom of assembly. The previous four protests in October, August, July, and May ended when police began detaining numerous activists.
Photographs from New Year's Eve Rally
Photographs sourced from LiveJournal users Yashin, Drugoi and Zyalt, and Grani.ru.