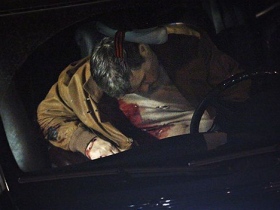 Ruslan Yamadayev, a former lawmaker in Russia's lower house of Parliament, was shot dead Wednesday evening as he drove home from meetings in the Kremlin. Yamadayev, with several powerful brothers, make up a Chechen clan with close ties to the Russian military.
The Yamadayevs have been at odds with Chechen President Ramzan Kadyrov, and preliminary conclusions do not preclude Kadyrov's involvement in the murder.
Yamadayev, 47, was behind the wheel of a Mercedes S600. As he stopped at a red light, an unidentified attacker approached the vehicle and fired shots through the window, according to RIA Novosti reports. Yamadayev died on the spot, and his passenger, General-Colonel Sergei Kizyun, was heavily wounded. Investigators are searching for an Audi 80, which may have been used by the attacker to flee the scene.
According to Issa Yamadayev, Ruslan's brother, he was returning from meeting in the presidential administration. The former lawmaker may have discussed problems being faced by the Vostok ("East") battalion, a special forces unit he helped found within Chechnya.
A criminal investigation has been launched by the Interior Ministry.
Both Kadyrov and the Yamadayevs are former Chechen rebels, who fought against Russian troops for independence during the first Chechen war. They later switched sides, and joined together to bring Chechnya back into Russia's fold. Ruslan and his younger brother Sulim Yamadayev, the former head of the Vostok battalion, were awarded Hero of Russia medals for their efforts against Chechen insurgents.
The Yamadayevs are widely believed to be the only force within Chechnya that operates outside of Ramzan Kadyrov's oversight. Ruslan Yamadayev's death may mark a final step to Kadyrov's complete control of the embattled Caucasus republic.
In April of this year, soldiers in the Vostok battalion came head to head in an armed confrontation with Ramzan Kadyrov's personal guard when they blocked passage for Kadyrov's motorcade.
Since then, Kadyrov has intensified a legal and media assault on the battalion and the brothers, who have kept a low profile. Chechen law enforcement announced that Sulim and Badruddi, the youngest brother, were being sought for war crimes. Kadyrov announced on state television that the Yamadayevs were criminals, and called for their arrest. Sulim Yamadayev was subsequently rid of his position in the armed forces, after which Kadyrov called off the investigation against him.
According to a source quoted in Kommersant, Sulim Yamadayev had recently tried to go underground, switching apartments several times, and never leaving his home without stepped-up security. Ruslan, who never hired bodyguards, was always in the company of highly-ranked military personnel, and apparently believed this was a certain guarantee of safety.
Kommersant's source noted that a special operation against Kadyrov's enemies was started on September 17th, when Bislan Elimkhanov, the commander of the Zapad ("West") battalion, was attacked in Grozny(Rus).
Russian lawmakers, meanwhile, tried to pin the blame on Georgia. Alexander Torshin, the First Vice Speaker of Russia's upper house, the Federation Council, said the attackers wanted to kill Sulim Yamadayev. Sulim had led the Vostok battalion as it swept into the South Ossetian capital of Tskhinvali in late August.
Kadyrov, Torshin said, would be the last person interested in such a murder.