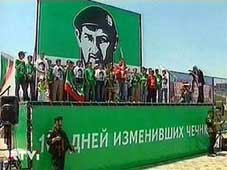 A vicious power struggle in Chechnya came to a head recently with a scuffle on the open road. On April 14th, an armed unit of the Defense Ministry's Vostok special battalion would not move away and allow Chechen President Ramzan Kadyrov's special guard to pass. After a collision, a shoot-out began that by some estimates left 18 soldiers and civilians dead. The Defense Ministry then denied the whole affair.
Far before the incident, starting early this year, a media war was launched against the Vostok battalion and its leaders, the Yamadayev brothers. The Chechen Government's website ran allegations that Vostok soldiers were responsible for a swath of serious crimes, including kidnappings, murder and torture. Magomed Khanbiev, a deputy in Chechnya's Kremlin-friendly Parliament, was quoted as saying: "Of course, there might be normal soldiers in this battalion, but most of them do drugs, commit murders and kidnap people, thus scorning our traditions." On state-run television, President Kadyrov called the Yamadayev brothers criminals, and called for their prosecution.
The stories made no mention that Kadyrov's own troops have been consistently accused of the same crimes by local human rights organizations.
Sulim Yamadayev, the commander of the Vostok battalion, is one of the only local military leaders that was not appointed by Kadyrov. His clan, including brothers Ruslan and Badruddi, provides one of the last remaining counterweights to Kadyrov's complete consolidation of the local police and military troops.
Both the Yamadayevs and Kadyrov formerly fought as rebels against Russian troops during the two tragic military campaigns over Chechen independence. While the Yamadayevs have close ties with Russia's military establishment, Kadyrov is backed directly by Russian President Vladimir Putin.
As Putin prepares to leave office, Kadyrov seems intent on retaining complete control of the former breakaway republic, with or without Kremlin sponsorship. Since the road incident, the struggle has intensified.
On April 20th, an assault on a representative of Chechnya's human rights ombudsman left two young girls dead and three men injured. Immediately, before any investigation unfolded, Ombudsman Nurdi Nulkhazhiev accused the Vostok battalion of responsibility. "We cannot confirm that the Vostok battalion were involved in the incident, but we have solidly-founded suspicions that they were, and consider it imperative that investigators look into this version," he told Interfax.
Hundreds of Vostok soldiers were also reportedly deserting their ranks and trying to enter other military units, according to the Kommersant newspaper. The soldiers claimed that they were forced to break the law, and go against the interests of the the Government and the people during their service.
Ruslan Yamadayev was furious: "These people were forced to make such claims – some with threats, others with payments," he told Kommersant. According to Yamadayev, both his relatives and the battalion's soldiers are under "powerful pressure" from authorities. "Every day, local television speaks about the horrors that the battalion's soldiers and commanders supposedly performed. All this, of course, scares people, and compels them to write statements."
Ramzan Kadyrov is often credited with bringing stability to the Chechen Republic, and he has led a strenuous reconstruction effort paid for by the Kremlin. The 29-year-old president has used his commando militia to consolidate power, has led an active amnesty campaign for former rebels, and has enacted some elements of Sharia law. Still, while the republic is no longer at war, murders and assaults are frequent, and commonly go unsolved. Some experts claim that much of the violence and criminal element in Chechnya has simply been pushed into neighboring regions.