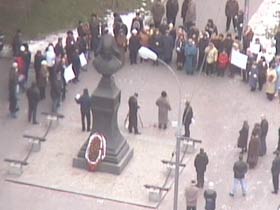 Residents of Butovo, on the southern tip of Moscow, are continuing a five-day blockade of a local construction site. As the Ekho Moskvy radio station reported on August 4th, they are demanding a meeting with authorities.
"We aren't allowing trucks carrying building materials to pass [and] the construction project is standing still," said Dmitri Murashov, a member of the civic group leading the event. "But no one is getting in contact with us."
According to Murashov, the decision to block the construction site was taken after a group of locals were evicted from one area building last wednesday. The building was then demolished to make room for new construction. Murashov underscored that "no accommodations were given to owners of the housing, and the compensation was clearly undervalued."
He added that a private residence in the immediate vicinity of the construction site had recently caught fire, and was luckily saved by the quick response of fire-fighters. "There are all indications of arson," he said, "a window was broken, combustion started indoors, everything was turned off."
Some 10 buildings have burned down in Butovo in the last year, according to the activist.