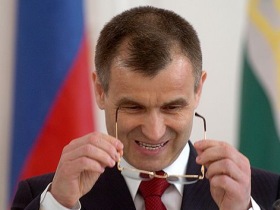 Russia's Interior Minister, Rashid Nurgaliev, has called for new restrictions on the internet, the Prime-Tass News Agency reported on July 11th, citing Itar-Tass. According to the minister, the internet must be recognized as a mass-media outlet, just like a newspaper, radio or TV station.
Nurgaliev called on the Ministry of Justice, the Federal Security Service (FBS) and the Interior Ministry to lobby for such a law "with all the resulting legal consequences for owners of subversive sites."
Speaking at the first session of a government committee on preventative measures against crime, Nurgaliev said it was necessary "to protect the youth from xenophobia, extremist attitudes, legal nihilism and the criminal subculture." He said it was becoming necessary to criminalize the dissemination of certain information online, including terrorist ideas, advice on how to make bombs and other illegal activities. "Here is where the responsibility of mass-media outlets is great, particularly those oriented toward the youth," he continued.
Nurgaliev's proposal is the latest suggestion by lawmakers and law enforcement officials to regulate the internet. In February 2008, Federation Council Senator Vladimir Slutsker proposed registering any website with more than 1000 daily visitors as a mass-media outlet. In March, the Prosecutor-General's office asked lawmakers to hold internet providers responsible for the content they host. In April, the Public Chamber, an advisory body to the Parliament, backed proposed restrictions to the web.
It is worth noting that in 2004, Russia's Deputy Minister of IT and Communications, Dmitri Milovantsev, adamantly spoke against classifying websites as mass-media outlets. "Personal websites in the internet can be compared with, for instance, a school's wall newspaper [(where students are given a poster to decorate and hang in the school-building)]."
"So it turns out the wall newspaper must be included as a mass-media outlet?" Milovantsev said.
As of today, Milovantsev is no longer around to speak out for internet freedom. The Deputy Minister tendered his resignation in June 2008.