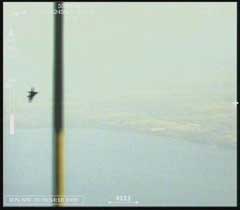 The United Nations has found Russia responsible for shooting down an unmanned Georgian spy drone in late April. As the AFP news agency reports, the findings back Tbilisi's assertions that Russia was breaking ceasefire accords and interfering in an armed conflict between Georgia and the breakaway region of Abkhazia.
The UN report says that the evidence indicates the unmanned drone was shot down by a Russia jet. Investigators looked over radar records, video taken by the drone, and witness testimonies, finding that the attacking aircraft was a MiG-29 or Su-27 warplane.
The Russian defense and foreign ministries denied the findings. "Overall, the quality of these investigations does not inspire confidence," Russia's foreign ministry wrote on its website.
The incident, which took place on April 20th, was the last in a series of conflicts between Georgia and Russia. Russia, which backs Abkhaz separatist rebels and maintains peacekeepers in the area, has been accused of inciting an escalation towards a military conflict, and interfering in Georgian sovereignty.
Russian involvement in Abkhazia and another breakaway republic, South Ossetia, has also threatened economic relations between the two countries. For its part, Georgia has pledged to block Russian accession into the World Trade Organization.