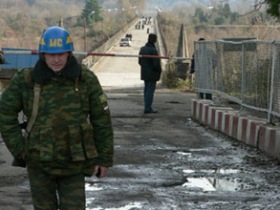 Georgia has dropped out of bilateral talks with Russia concerning Russia's accession into the World Trade Organization (WTO). Georgia's lead negotiator, Tamara Kovziridze, announced the decision on Georgian national television on April 29th. According to Kovziridze, the country's deputy Minister for Economic Development, Russia must break relations with two separatist regions in Georgia before talks can resume.
Kovziridze said that an April 16th directive by Russian President Vladimir Putin to establish direct links with Abkhazia and South Ossetia was a gross violation of Georgian sovereignty. The order also cancelled economic sanctions against the two breakaway republics. Kovziridze called the move a "creeping annexation" of Georgian territory, adding that the order must be rescinded before talks continue.
Relations between the two countries have been tense for years, largely over the two republics. The situation has recently escalated, with Moscow announcing that it was prepared to use force against Georgia if they launched a campaign against separatist rebels. An unmanned Georgian drone shot down over Abkhazia last week also sparked vocal protest from Tbilisi.
Trade between the two nations has also suffered. In 2006, after alleged health concerns that critics called political, Georgian wine and mineral water, one of the country's largest exports, were banned from Russia. Air and sea travel, also blocked since 2006, only resumed in March. Experts have pointed to the situation as an example of Russia's new and aggressive foreign policy toward its neighbors.
Russia has been in negotiations regarding WTO membership for some 15 years, and the Kremlin had hoped to join the organization this year. Aside from Georgia, Russia needs to sign a bilateral agreement with Saudi Arabia. It may also need to rework previous agreements with other countries, including the United States.
Russia is currently the largest economy that does not belong to the WTO.