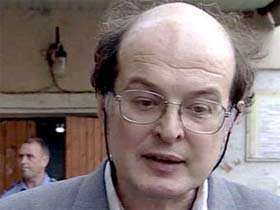 Yury Samodurov, the director of the Andrei Sakharov Museum and Civic Center, has been indicted over a 2007 art exhibit held at the Center. The exhibit, titled "Forbidden Art 2006," featured controversial artwork, some of which dealt with religious themes.
Lev Ponomarev, the leader of the For Human Rights movement, told Interfax on May 6th that a number of other museum-workers were also summoned for questioning.
The exhibit was created by Andrei Yerofeyev, an art expert who sought out works that were banned by Moscow art galleries and museums in 2006. Part of the exhibit's intention, according to Samodurov, was "to discuss the problem as to what should and what should not be banned."
In fact, much of the artwork on display was decidedly mild by international standards. One piece depicted Mickey Mouse and Lenin. Another showed scrawled obscenities with a background of a crucifix and other religious imagery. Others featured pornographic images. To see the art, viewers had to peek through a bed sheet with holes cut out of it.
A criminal case on grounds of "inciting hatred or enmity" was first launched against organizers of the event last year, after complaints from a movement called the "People's Convocation." The group, comprised of over 200 various organizations, believes the exhibit offends the sensibilities of religious believers.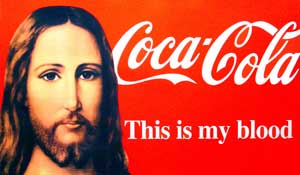 The Russian Orthodox Church and Orthodox organizations have also been staunch critics of religious-themed modern art. A 2003 exhibit titled "Caution: Religion!" was damaged by six members of a religious group, who threw black paint on featured artwork. Organizers of that exhibit (including Samodurov), which was also held at the Sakharov Center, were convicted of inciting hatred.
Samodurov is being indicted and criminally charged under the Russian Code of Administrative Offenses, which covers the insult of religious feelings and the desecration of religious objects.
Other non-religious artwork has also been banned by authorities. Several works were pulled by the Culture ministry from an exhibit of political satire as it moved out of Russia on an international tour.
Still, Samodurov and the Russian art world were unapologetic for what they see as their right to free expression. Responding to criticism from religious groups, Samodurov spoke his mind:
"I personally like only a few of the works displayed. There are some that I in fact strongly dislike. But what strikes me is that, if people do not like something, they immediately say that this fuels various kinds of discord, such as ethnic, religious, and so on. If you do not like this, do not come here."
—
Read more about controversial art in Russia, with images, from Russia! magazine.