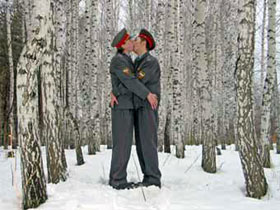 Paris won't get the chance to see two policemen kissing.
The opening of a Paris exhibition titled "Soc-Art: Political Art in Russia since 1972," on loan from the Tretyakov Gallery, will with all likelihood open as expected on October 20th. As Kommersant reported on October 9th, the art-laden trucks have already passed customs, and left Russia on October 8th.
However, the list of works, produced for the customs officials to document the export, is missing the most provocative creations of Vladislav Mamyshev-Monroe, Maria Konstantinova and Viacheslav Sysoev, as well as the "PG" (short for Pop-Grafika) and "Blue Noses" (see some of their work here) artist groups. The works have been pulled out of the exhibition by the Ministry of Culture.
Andrei Erofeev, of the Tretyakov gallery, called the Ministry's actions, "Direct evidence of the incompetence of the Russian Cultural administration in the realm of modern art."
Minister Alexander Sokolov has publicly condemned the exhibit, which was previously displayed in Moscow, as "pornography" and "a disgrace for Russia." This led the Ministry to pull a whole series of artwork by PG and Blue Noses. The head of the federal agency of culture and cinematography (Roskultura), Mikhail Shvydkoi, gave the order to prevent all works of the two groups from export to France, and included Mamyshev-Monroe's self-portrait as Hitler, two pieces by Konstantinova, and one work by Sysoev.
On top of that, Gazeta.ru reported on October 9th that the Ministry of Culture announced the preparation of draft legislation "for restrictions on the circulation of materials of erotic and pornographic character." The proposed law will be submitted for overview to the government in November, and advocates for an incredibly broad definition of erotic and pornographic objects. The law would forbid the sale of any such products near any establishments frequented by children, and would outlaw the sale of anything deemed "pornographic" to anyone under the age of 21.
A similar law was introduced in the legislature in September of 2006, and was quickly thrown out. Alexander Chuev, one of the co-sponsors, holds the opinion that the law failed as result of lobbying by the mafia, which pulls in an immense income from all things erotic and pornographic.