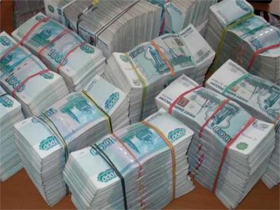 Damages caused by corruption within Russian state agencies amounted to 7.9 billion rubles in 2012 – about 256 million USD, Kasparov.ru reports.
The figures came in a statement released by the Russian Federal Investigative Committee on Sunday.
"Within the period analyzed, investigative agencies worked before filing charges to determine compensation for the state, citizens, and legal entities in return for damages caused by corruption," said the statement. "The damages consisted of 7.9 billion rubles, compensated by 1.3 billion rubles [42.1 million USD]. Property totaling 1.2 billion rubles [38.9 million USD) was seized."
According to the investigation, there were 16,603 criminal corruption cases against civil servants in 2012. Among these figures were some who held particularly high legal statuses:
Sub-federal legislative agency deputies: 13
Municipal electoral agency deputies: 210
Municipal agency election officials: 261
Judges: 2
Electoral commission members: 19
Prosecutors and prosecutor aides: 19
Federal Investigative Committee employees (the same committee that released this report): 13
Russian Interior Ministry preliminary investigation managers and investigators: 56
Federal Drug Control Service investigators: 7
Lawyers: 39
The release of the report coincided with International Anti-Corruption Day, which began under the auspices of the United Nations in 2003.
The report also comes on the heels of a wave of corruption cases against members of the Russian Ministry of Defense. The cases evoked such a wide resonance in Russian society that the Investigative Committee asked the ministry to refrain from "spinning" the case and turn over all relevant information to the committee.