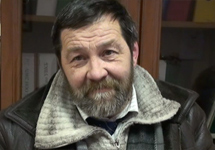 Russian political prisoner Sergei Mokhnatkin has been released from a penal colony after being pardoned by outgoing President Dmitri Medvedev, Kasparov.ru reports.
Olga Shorina, press secretary of the Solidarity opposition movement, said on Wednesday that "the relevant paperwork is currently being completed."
Mokhnatkin was greeted at the gates of Torzhka's Penal Colony No. 4 by civil and political activists and supporters.
The prisoner was arrested after stepping in to defend an elderly woman from a police officer who was "dragging her towards a bus" during one of the most notoriously brutal Strategy 31 crackdowns in the history of that protest movement. Mokhnatkin was arrested and sentenced to 2.5 years confinement for "using force against a government representative."
He was among 37 political prisoners on a list given by opposition leaders to the president to pardon a month earlier in the wake of massive protests.
President Medvedev signed Mokhnatkin's pardon on April 23 – almost two years after he was sentenced.
As Mokhnatkin said at the time he was charged, he was not taking part in the Strategy 31 rally, but simply happened to be walking by and felt the need to come to the defense of the 70-year-old woman being mistreated by the police officer.