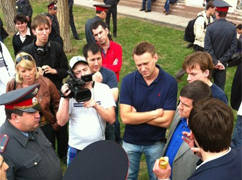 Solidarity co-leader Ilya Yashin was detained in Astrakhan on Wednesday during a rally in support of hunger-striking oppositionists, Kasparov.ru reports.
A group of supporters of former Astrakhan mayoral candidate Oleg Shein from the A Just Russia party were gathered on the southern city's central square when provocators from a pro-Kremlin youth group began to harass them. When police refused to intervene, the protesters were forced to defend themselves.
News of the arrest came from activist Georgy Alburov, who posted numerous photographs of the rally on Twitter.
Also through Twitter, A Just Russia deputy Dmitry Gudkov reported that Yashin was released later Wednesday evening. It was unclear if he faced any charges or if any of the provacators had also been arrested.
Earlier in the day, deputies from A Just Russia left the State Duma in protest after receiving an unsatisfactory answer from Prime Minister Vladimir Putin in regards to Shein's hunger strike.
When A Just Russia leader Sergei Mironov asked what Putin thought about the situation, Putin responded that he didn't know all the details but had "been informed about all of it."
Putin continued to respond to other questions as the A Just Russia members left the hall. When a loud murmur arose, Putin complained that he found it "difficult to communicate."
Oleg Shein began his hunger strike on March 15 after losing what he says was a corrupt mayoral election. The winner, Mikhail Stolyarov, is a member of Putin's leading United Russia party. A number of supporters have joined Shein in his strike. Gudkov told RIA Novosti on Wednesday that the ex-candidate's condition has since markedly deteriorated.
While Astrakhan regional governor Aleksandr Zhilkin has said that a reelection would be the best way to end the dispute, Stolyarov would have to agree. The latter has thus far refused, arguing that even if there were some falsifications during the election, the majority of Astrakhan residents still supported him.