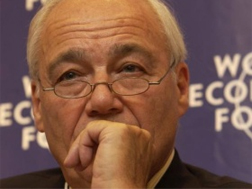 Prominent Russian television host Vladimir Posner might cancel his own show because of censorship by the state-owned channel that it currently airs on, Interfax reports.
Speaking at a press conference in Moscow on Wednesday, Poser said that he would not tolerate further censorship of his program. The most recent instance occurred when management at Channel One decided to nix a part of a February 6 interview that discussed Alexei Navalny – a leading opposition figure and one of the organizers of a massive opposition protest over the weekend.
"It might be that at the end of the day it's not as a result of [the incident concerning] Navalny, but if anything else like this happens, I might just tell them – that's enough!" Posner said.
At the same time, the host expressed hope that it wouldn't come to such an extreme measure.
He also promised that if the show is cancelled, a press conference would be held to explain the specific reasons why.
"I'm very glad that, thanks to the Internet, anyone who's interested can see: here is the program and here is what they cut out of it. It's becoming meaningless to cut things out," Posner said.
The host admitted that February 6 was not the first time he'd agreed to air a censored episode. While it happens "relatively rarely, this is one of the compromises that I sometimes make," he acknowledged.
The interview in question was with fellow television host Tina Kandelaki, during which Posner asked whether or not she thought that he would be allowed to interview Aleksei Navalny on his own show: "I could call up Aleksei Navalny, but what do you think, would they let me?" According to Gazeta.ru, this fragment was cut out of the episode that aired in most of Russia, with the full version only broadcasted in the Far East, where it is regularly airs live.