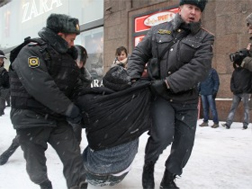 The human rights watchdog Agora says it's recorded more than 850 cases of persecution against civil rights activists and non-governmental organizations in Russia in 2011, continuing a trend that has been steadily on the rise since 2008, Kasparov.ru reports.
According to Agora, Russia was home to 730 rallies, demonstrations, and pickets attended by a total of more than 400 thousand people during 2011. Of those participants, more than four thousand were detained before, during, or immediately after the event.
The group found that 117 civil activists, made up mostly of bloggers, anarchist or antifascists, and members of the banned National Bolshevik Party, were subjected to criminal prosecution in the past year. They were mostly incriminated under Russia's controversial "extremism" laws, which critics denounce for their broad, vague wording, and also under laws against slandering or insulting government figures. Among the persecuted activists was music critic Artemy Troitsky, Novosibirsk artist Artem Loskutov, Oleg Vorotnikov and Leonid Nikolaev of the art group Voina, and Tyumen State University professor Andrei Kutuzov.
Three activists were killed in 2011: in May, editor Yakhya Magomedov of the Avar-language Islamic newspaper As-Salam; in June, Rector Maksud Sadikov of the Institute of Theology and International Relations was shot along with his nephew in Makhachkala; in December, Gadzhimurad Kamalov, a journalist and founder of the independent newspaper Chernovik, was murdered in Dagestan.
Agora also recorded 45 incidents of beatings and other attacks.
The most at-risk groups were ecologists (primarily members of the Movement in Defense of the Khimki Forest and opponents of environmental damage due to Olympic construction in Sochi), LGBT activists, and activists and participants of protests in the North Caucasus.
There were also 42 arrests, most commonly of members of the National Bolsheviks, Khimki Forest activists, and members of the electoral watchdog Golos. Irina Teplinskaya, a vocal critic of Russia's treatment of drug addicts, was arrested in a Kaliningrad airport in August, and Golos head Liliya Shibanova was arrested in Moscow's Sheremetyevo airport in December. Noting the arrests of blogger Aleksei Navalny, oppositionist Ilya Yashin, and pianist Fedor Amirov, analysts at Agora said that from December 5-7, Russia for the first time began detaining people en masse and sentencing them to the maximum term of administrative arrest, with more than 100 people turning up in Moscow holding facilities during that time.
Additionally, 2011 saw 25 police searches of NGO offices and activists' apartments.
The searches included a firm owned by Khimki Forest activist Yevgenia Chirikova and her husband, the office of the opposition movement Solidarity, and the Ulyanovsk branch of the Memorial human rights center.
The 850 cases of persecution recorded by Agora in 2011 followed 603 such cases in 2010, 308 in 2009, and 144 in 2008.