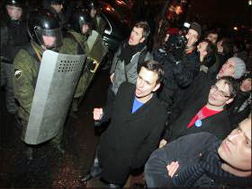 Russian opposition figures Ilya Yashin and Aleksei Navalny have been released from Moscow jails after sitting out sentences connected with protesting against falsified election results, Kasparov.ru reports.
Yashin was released on Wednesday at 2:30 am in northwest Moscow. According to his lawyer Vadim Prokhorov, he was feeling fine.
Navalny was released from another facility at 2:35 am to a waiting crowd of journalists and supporters. The whistleblowing blogger said that intends to file a complaint against police for forcibly transferring him from a detention center to a police station.
"Ilya Yashin and I were asked if we'd like to go to the police station, but we declined. Several hours ago I was called supposedly to sign a document, after which someone in a t-shirt and flip-flops forced me into a car and took me away," Navalny said. "I consider this to be unlawful and am going to complain about these actions by the police."
Both oppositionists were arrested on December 5 following a mass rally at Moscow's Chistye Prudy and sentenced to 15 days in jail for supposedly "violating police orders." They were among 300 other demonstrators arrested out of a crowd of approximately 10,000; about 60 were given jail sentences from between 10 and 15 days each.
Oppositionists have scheduled another mass rally to protest the election results for December 24.