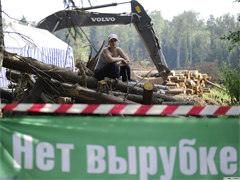 Activists from the Movement in Defense of the Khimki Forest met with US Assistant Secretary of State for Democracy, Human Rights and Labor Michael Posner on Saturday to discuss the international ramifications of the ongoing fight for suburban Moscow's Khimki Forest, Kasparov.ru reports.
According to movement member Sergei Ageyev, ten environmentalists held an "exchange of information" with Posner at the house of activist Konstantin Fetisov in the outer-Moscow village of Gavrilkovo.
During the discussion, the movement's leader, Yevgenia Chirikova, told Posner about their work to save the forest from a dubious highway construction project, and also brought to his attention attacks on activsts – including Fetisov – and multiple other human rights abuses by members of the project's private security forces.
Chirikova made particular note that French contractor Vinci, party to the UN agreement on principles of business conduct, is involved in the project. Correspondingly, she said, the company is violating the UN agreement by taking part in a construction project that has involved multiple human rights violations.
In sum, Chirikova told Posner that the highway was an international project "that, by the way, is violating human rights," and that the US should "react" to everything that happens around the Khimki Forest because Russia is a country that is "struggling for human rights and democracy."
As part of his visit to Russia, Posner spoke on Ekho Moskvy Radion on October 12 and noted that the US generally blocks entry through its borders to anyone involved in demonstrated human rights abuses.