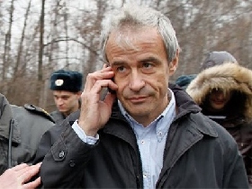 A Khimki city official is among those arrested by police in connection with the beating of Khimki environmental activist Konstantin Fetisov, Kasparov.ru reports.
On Tuesday, federal investigators said that Andrei Chernyshev, who heads Khimki's department on public property and privatization, was arrested under suspicion of organizing Fetisov's attack. Criminal investigators also detained 25-year-old Vyacheslav Kovalev and 28-year-old Andrei Kashirin, who are suspected of having carried out the attack.
Earlier in the day, RIA Novosti reported that a total of four figures had been detained in connection with Fetisov's beating. The day before, reports surfaced that police had conducted searches in Khimki administrative buildings. While the Investigative Committee confirmed this information, the Khimki administration itself denied that any searches had occurred.
Konstantin Fetisov, leader of the Khimki branch of the Right Cause party and a staunch supporter of the preservation of the Khimki Forest, was attacked by unknown assailants on November 4. Repeated blows to the head from a baseball bat caused him to fall into a coma. On December 27, his wife, Marina Fetisova, reported that his condition was improving; Fetisov is now in "a state of deep stupor," meaning he is not in a coma but basically does not respond to external stimuli.
The activists and ecologists who fought with Fetisov to preserve the Khimki Forest say the attack was clearly connected to his civic activities. Days after the attack, journalist Oleg Kashin, who had dedicated a significant amount of coverage to the Khimki Forest controversy, was also beaten nearly to death by two unknown men. An investigation is still ongoing.