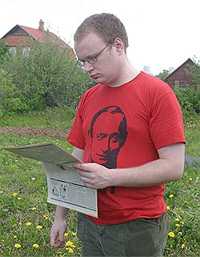 A Russian journalist from the newspaper Kommersant is being kept in an artificial coma after surviving a severe beating in central Moscow, Gazeta.ru reports.
Just past midnight on Saturday, Oleg Kashin was beaten by unknown assailants on a street close to his rented apartment. The attackers left the journalist with two broken shins, fractures on the upper and lower jaws, skull lesions, and broken fingers. However, they did not take Kashin's money, tablet computer, or cell phone.
According to a janitor who witnessed the incident, Kashin was beaten by two people "not with their fists, but with some kind of object."
The journalist is currently in an artificial coma and hooked up to an artificial lung in a Moscow hospital, where doctors fear that he may develop pneumonia. An operation on the victim's skull revealed that his brain was undamaged. As of Saturday night, doctors said his condition was "extremely critical."
Editors at Kommersant say the attack was most definitely connected to the journalist's professional work.
"It is totally obvious that this was a planned action, naturally, connected with Oleg's professional work," said Editor-in-Chief Mikhail Mikhailin. "They broke his fingers, legs; they wanted to cripple him. This wasn't some kind of hold-up." Mikhailin said he plans to "put the maximum amount of pressure on the investigation in order for it to be solved."
Kashin's recent articles have focused on a number of controversial topics, including political youth movements, the Khimki Forest, and high-ranking government officials.
Moscow city police filed a criminal suit early on Saturday for attempted murder, after reviewing security camera footage and interviewing witnesses of the attack. Later that morning, Russian President Dmitri Medvedev ordered that the investigation be transferred to the direct control of Prosecutor General Yury Chaika.
"There has also been an order to take all measures to solve this crime," reads a Kremlin press release.
A statement posted late Saturday on Kommersant's website decried the fact that the murders of so many journalists in Russia often go unsolved:
The attack on Oleg Kashin is outrageous, but far from the only manifestation of the growing violence in the civil and political life of the country. Unfortunately, we only see the victims: the attackers go uncaught, and the ones who ordered it – unknown. The impunity stimulates further violence.

If the investigation of Oleg Kashin's monstrous beating, despite the demands of Russian Federation President Dmitri Medvedev and the personal control of Prosecutor General Yury Chaika, ends in nothing, as has already happened with murder and beating investigations of other journalists in past years, it will effectively legalize the use of force.
Activists working to prevent the destruction of the Khimki Forest say that the attack on Kashin could be connected with another beating that occurred just a day earlier, when unknown assailants attacked environmental activist Konstantin Fetisov with a baseball bat late on Thursday night.
"My personal opinion is that Kashin suffered because of his journalistic work," Khimki Forest activist Yaroslav Nikitenko told Gazeta.ru. "In our country, attacks don't just happen. If I'm not mistaken, Kashin was the first correspondent to write a large article about the Khimki Forest in the newspaper Kommersant."
Russia is widely considered one of the most dangerous places for journalists to work in the world. The press watchdog group Reporters Without Borders ranks Russia as 140th out of 178 countries on its 2010 Press Freedom Index, and has called Russian Prime Minister Vladimir Putin a "predator of press freedom." The Committee to Protect Journalists ranks Russia as the 4th deadliest country for journalists in the world, with 52 killings with confirmed motives since 1992.