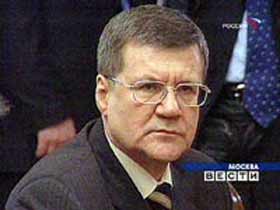 Colleagues of deceased Hermitage Capital Management lawyer Sergei Magnitsky are protesting the participation of Russian Prosecutor General Yury Chaika in the investigation of their lawyer's death. Chaika's work should serve as the basis for an official review, they argue. This according to a press release issued by Hermitage Capital Management on June 1.
Representatives of Hermitage Capital expressed outrage at how Russian President Dmitri Medvedev has overseen the handling of the cases related to Magnitsky's untimely death in a Moscow detention facility. Magnitsky himself had complained that Chaika's actions violated his constitutional rights, says the press release.
Over the course of three and a half years, says Hermitage Capital, the Prosecutor General's office and Yury Chaika personally actively impeded the investigation into unlawful actions by civil servants in Magnitsky's case. Now they are trying unconvincingly to mask their criminal negligence, as well as, possibly, notorious actions that lead to the theft of more than 11 billion rubles ($393 million USD) from the treasury and the death of Magnitsky, who uncovered these crimes, say his colleagues.
"It is bewildering that the supervision of the investigation of Magnitsky's case has been charged to the person bearing direct responsibility for the criminal inactivity and lack of supervision and proper reaction to Sergei Magnitsky's numerous appeals about violations of his rights…a person whose actions themselves ought to be checked out first of all," says Hermitage Capital.
On May 31, Yury Chaika received an order from President Medvedev "to intensify control over the course of investigation of the criminal cases connected with lawyer Sergei Magnitsky."
Sergei Magnitsky was arrested in November 2008 after uncovering a tax fraud scheme that allegedly involved members of the Russian government, judiciary, mafia, and others. He spent 11 months in a pretrial detention facility on trumped-up charges of tax evasion. On November 16, 2009, Magnitsky died of apparent heart failure. His colleagues say the lawyer was denied medical treatment and that his death was directly brought about by the actions of Russian law enforcement officials.