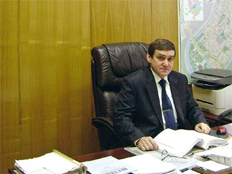 Corroborating accounts of accusations by a Russian court aide that Mikhail Khodorkovsky's guilty sentence was forced upon the case's presiding judge have begun to trickle in, Kasparov.ru reports.
Svetlana Dobronravova, a reader of the Metro newspaper, told the publication she overheard lawyers discussing the verdict. "I was attending to my own matters in the Khamovnichesky Court," said Dobronravova. "It was the last day of arguments in the Yukos case. I accidentally heard a female prosecutor's telephone conversation. She said: 'Now the lawyers are rattling off fees, Khodorkovsky is avoiding answering. But the sentence isn't ready, they haven't brought it from the Moscow City Court yet.'"
"I'm prepared to testify in court!" she added.
Mikhail Khodorkovsky and Platon Lebedev were sentenced to 14 years in prison late last December in the second court case filed against them by the government. They were accused of stealing oil from their own company, Yukos. The case is widely believed to have been politically motivated and analysts and oppositionists alike routinely point to Russian Prime Minister Vladimir Putin as the driving force behind the guilty verdict.
On Monday, Khamovnichesky Court spokesperson and aide Natalya Vasilyeva said the verdict was not written by presiding Judge Viktor Danilkin, but by judges in the Moscow City Court.
According to Metro, Vasilyeva said her family is now experiencing pressure from Russian law enforcement – internal ministry officials have inquired about her spouse's documents. The police denied any involvement.
Dobronravova is not the first person to come forward with evidence backing up Vasilyeva's accusations. On Monday evening, Novaya Gazeta columnist Vera Chelishcheva wrote on the newspaper's blog: "I agree with what Natasha is saying. We all heard how Danilkin screamed in his chamber during breaks in the hearings. He screamed at prosecutors, so it was occasionally heard in the courtroom."
Danilkin himself has maintained that the accusations are slander, but, as Kasparov.ru put it, "is not rushing to bring her to court."